---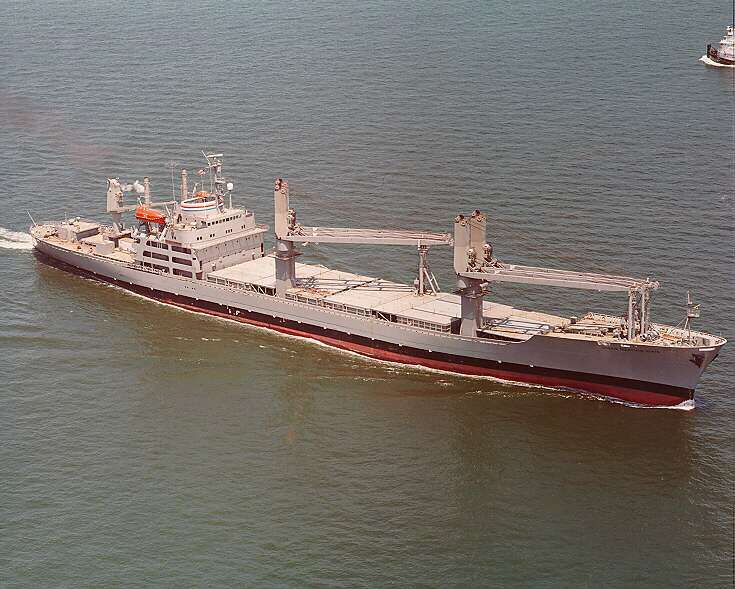 Shipyard
Ingalls Shipbuilding Corporation
General Type
MARAD (NDRF - RRF) Auxiliary
Specific Type
T-ACS Auxiliary Crane Ship
Displacement, Lightweight
Historical Narrative
---
Green Mountain State
is an Auxiliary Crane Ship (T-ACS).   T-ACS vessels are designed to offload commercial, non self-sustaining containerships in undeveloped or damaged ports. 
Green Mountain State
was originally built for Moore-McCormack Lines in 1965 as the break-bulk cargo ship
Mormacaltair
.  The ship was later "jumboized" and converted to a self-sustaining cellular containership. 
Moore-McCormack sold the vessel to United States Lines, which renamed it,
American Altair
.  In 1987,
American Altair
entered the Beaumont Reserve Fleet in Beaumont, Texas, in preparation for a Maritime Administration/Military Sealift Command-directed conversion to a crane ship, which took place from February 1989 to September 1990. 
The Maritime Administration purchased the vessel outright in March 1992 and it served in the Ready Reserve Force (RRF) until it was downgraded to the National Defense Reserve Fleet in July 2006. 
The vessel is currently part of the NDRF retention program, where it is in logistic support status as a source of major equipment spares for its sister ship
Pacific Tracker
(formerly the RRF vessel
Beaver State
).
Vessel Name History
1965 - 1983:
Mormacaltair
1983 - 1989:
American Altair
1989 - present:
Green Mountain State
Vessel Name History
Mission
No Mission for this vessel
Milestones
---
| Event | Date | Content |
| --- | --- | --- |
| Ship Name Change | (No Date) | Ship AMERICAN ALTAIR changes name to GREEN MOUNTAIN STATE |
| Entry | 3/10/1987 | |
| Acquisition | 3/10/1987 | |
| Interim Movement | 10/29/1997 | Under tow to Vancouver WA Trm 1/Brth 14 |
| Interim Movement | 10/29/1997 | At outport terminal 1 berth 14 |
| Interim Movement | 12/18/1997 | ENRTE: Portland OR for drydocking |
| Interim Movement | 12/18/1997 | At Cascade General S/Y for drydocking |
| Interim Movement | 1/5/1998 | ENRTE: Berth in Vancouver WA |
| Interim Movement | 1/5/1998 | Berthed at Term #4 berth 14 (homeport) |
| Interim Movement | 12/9/1999 | No Notice Turbo Activation seatrial 00-1 |
| Interim Movement | 12/11/1999 | Completed TA 00-1 / New homeport |
| Interim Movement | 12/8/2000 | Conducting annual M&R sea trial |
| Interim Movement | 12/9/2000 | Completed M&R sea trial |
| Interim Movement | 6/6/2002 | Conducting maintenance sea trial |
| Interim Movement | 6/7/2002 | Completed maintenance sea trial |
| Interim Movement | 8/26/2002 | Depart to accomodate BEAVER STATE on TA |
| Interim Movement | 8/30/2002 | Returned to Berth G. |
| Interim Movement | 10/3/2002 | Turbo Activation sea trial 02-04 |
| Interim Movement | 10/6/2002 | Completed Turbo Activation 02-04 S/T |
| Interim Movement | 1/5/2003 | ENRTE:Cascade General S/Y for drydocking |
| Interim Movement | 1/6/2003 | In for drydocking |
| Interim Movement | 3/3/2003 | Maintenance activation and sea trial |
| Interim Movement | 3/4/2003 | Completed sea trial |
| Interim Movement | 5/7/2003 | ENRTE: Bremerton Naval Station |
| Interim Movement | 5/7/2003 | Complete relocation to original berth |
| Interim Movement | 8/23/2003 | Turbo Activation sea trial |
| Interim Movement | 8/26/2003 | Completed Turbo Activation sea trial |
| | 7/28/2006 | |
Ship Imagery
---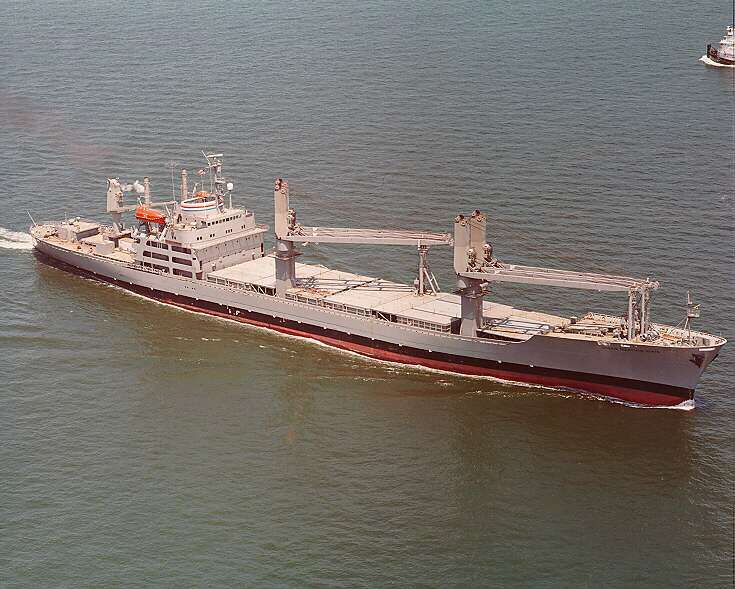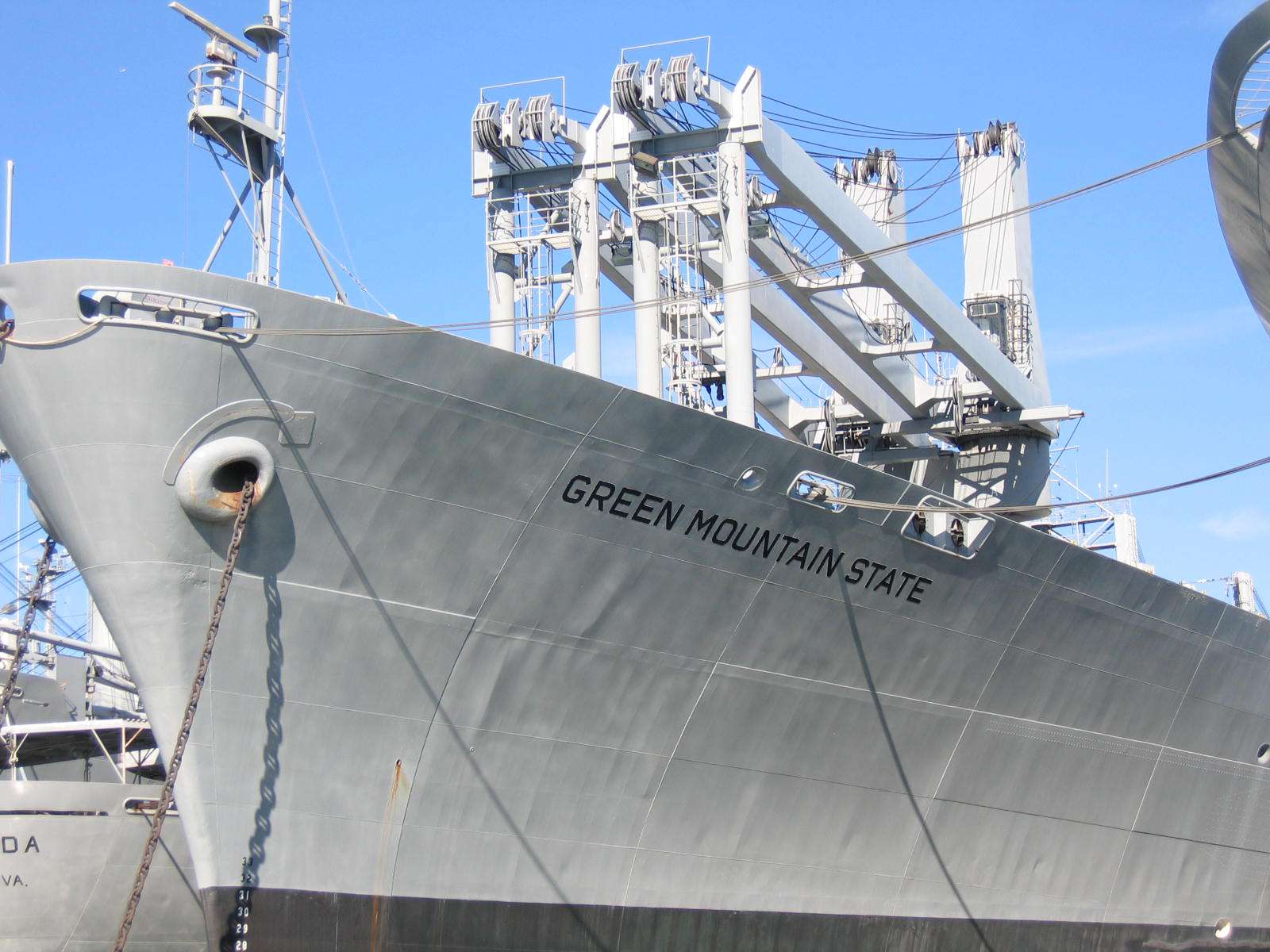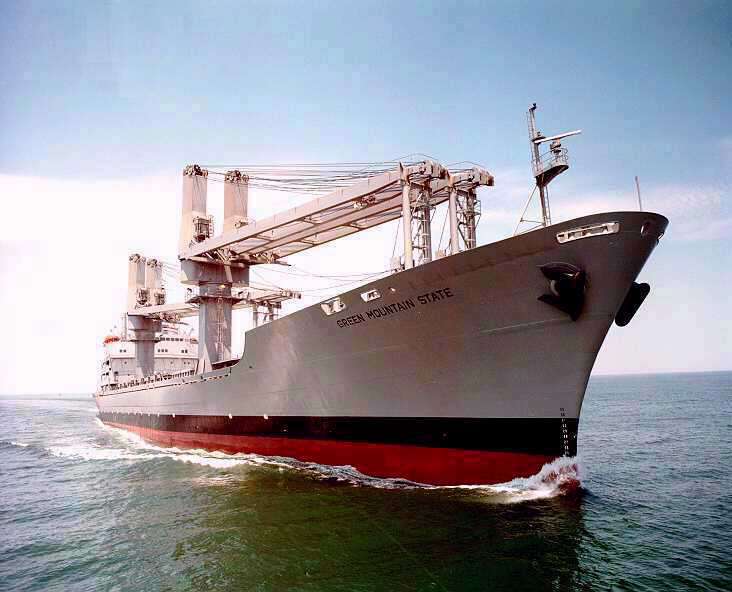 Status Cards
---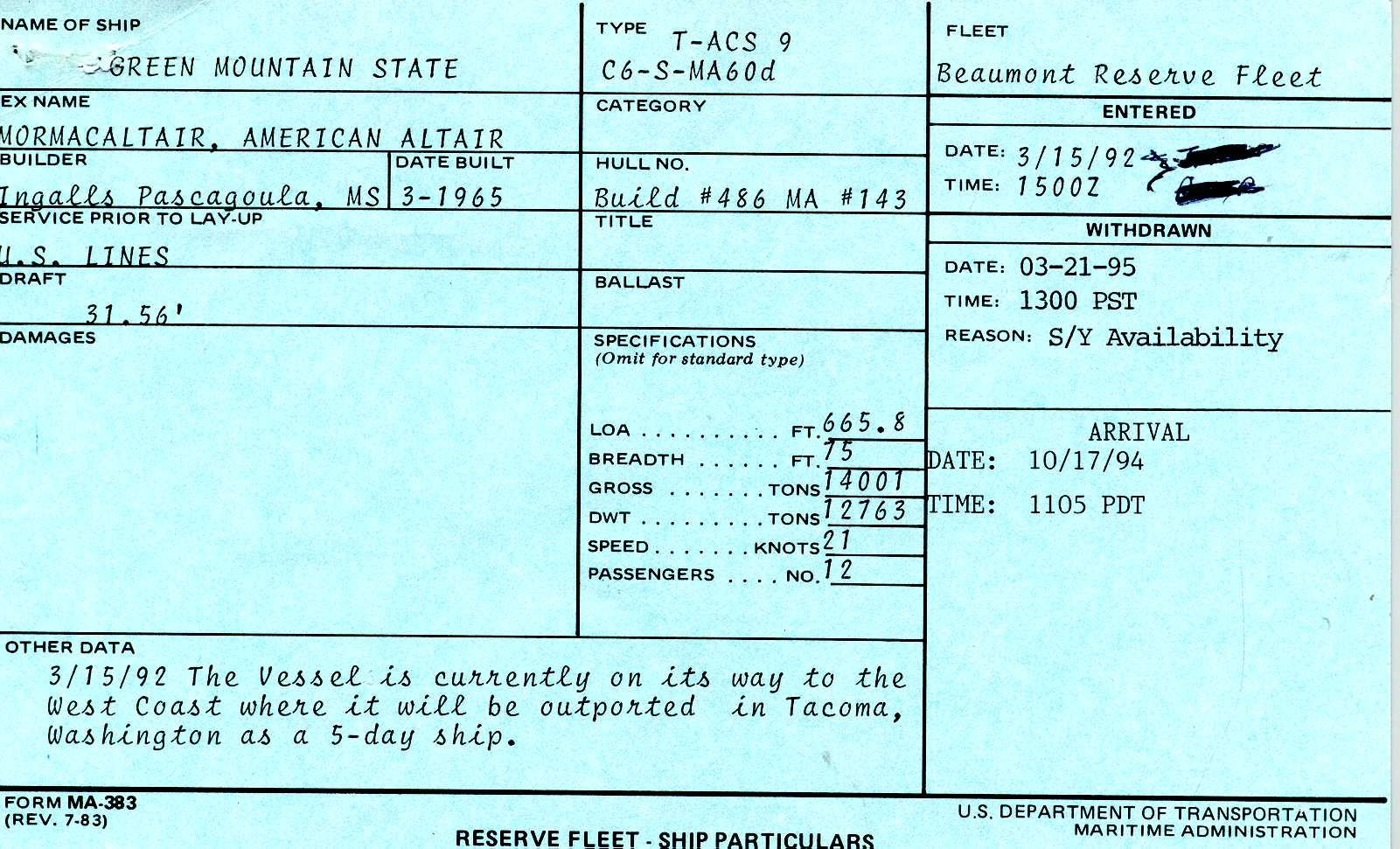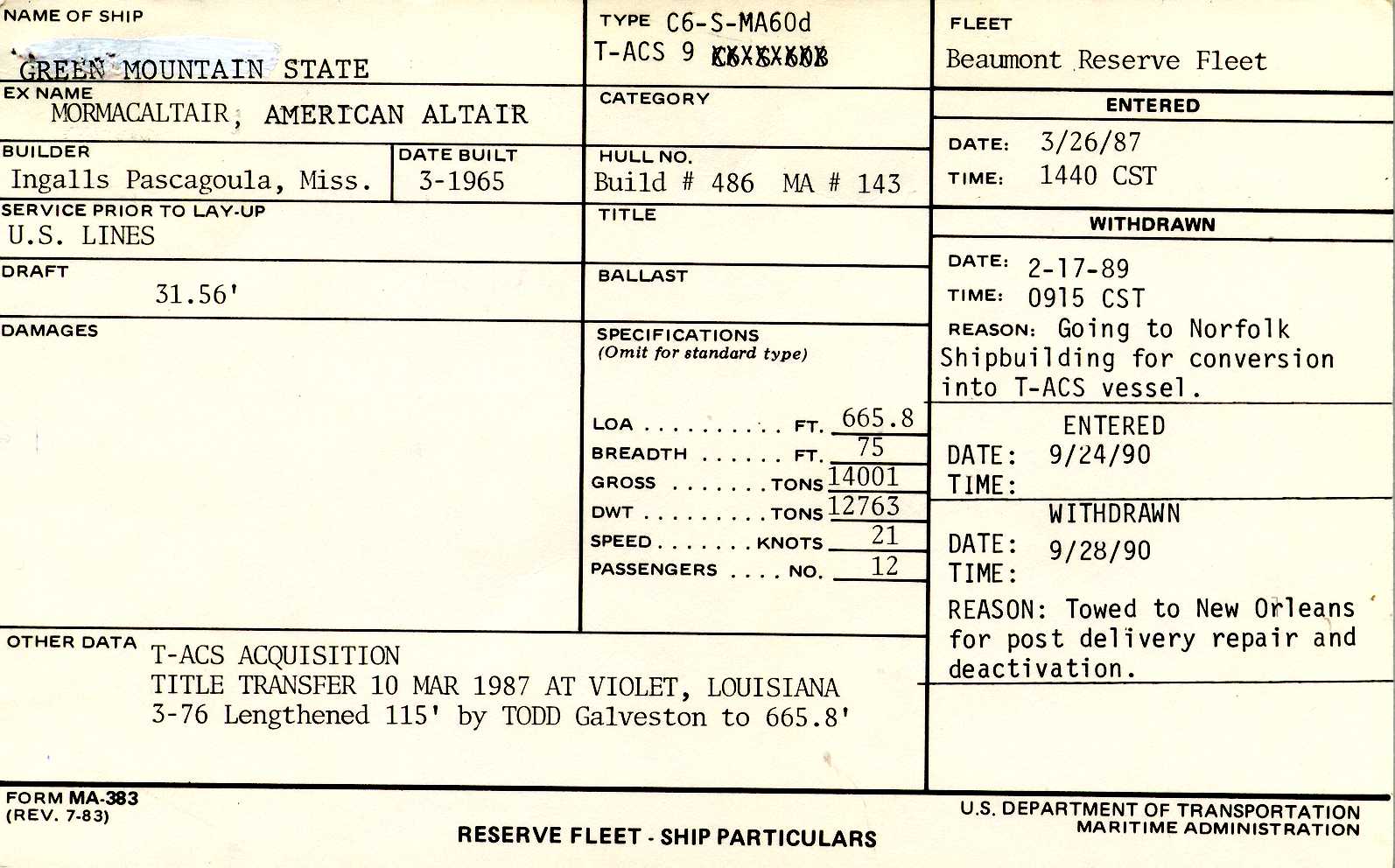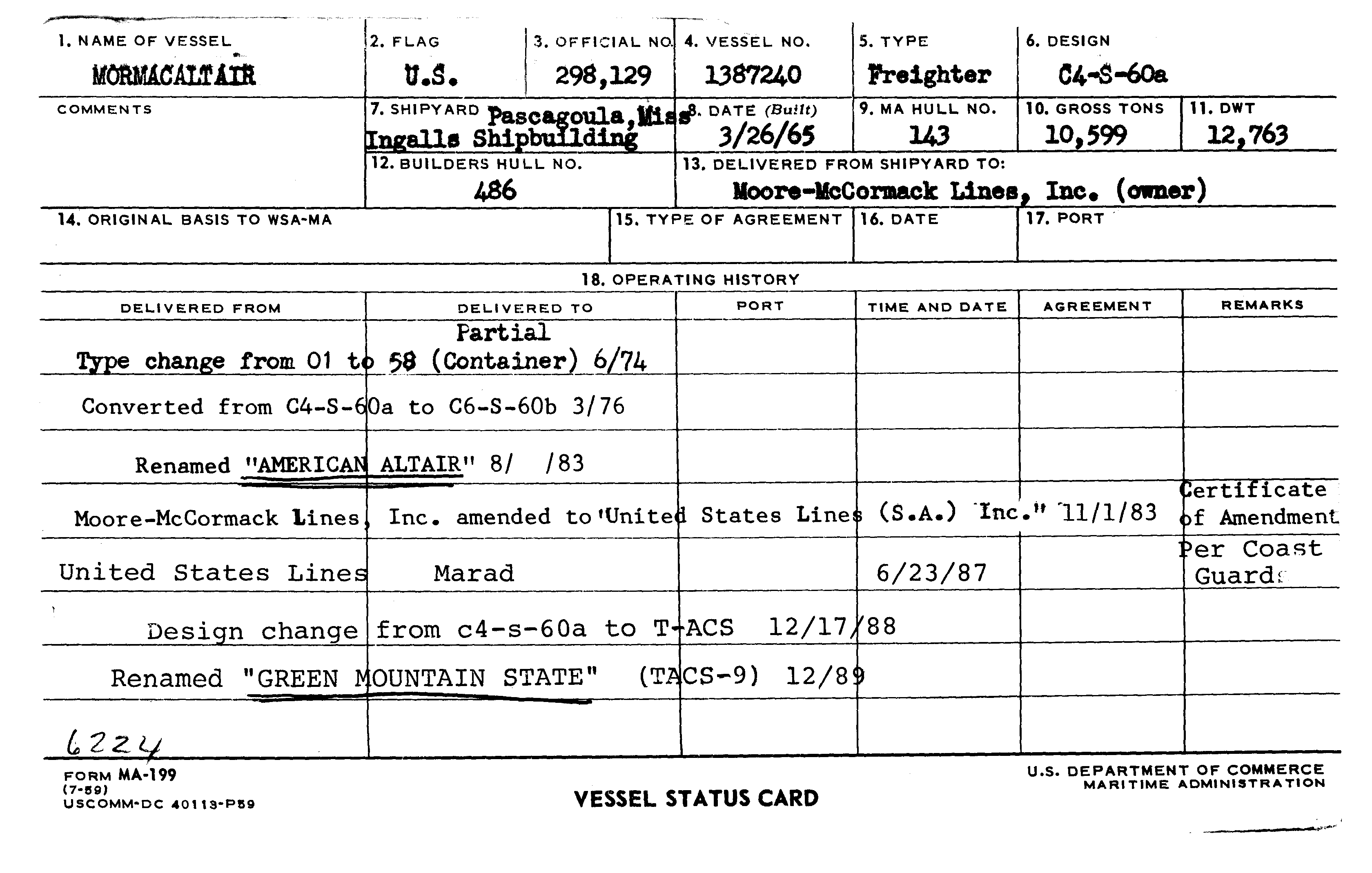 Documents
---
| | Date | Type | Name | Download |
| --- | --- | --- | --- | --- |
| | 9/1/2023 | | National Register Eligibility Assessment Green Mountain State.pdf | |
Plans
---
No documents for this vessel
Shipwreck Information
---
No ship wreck information for this vessel