---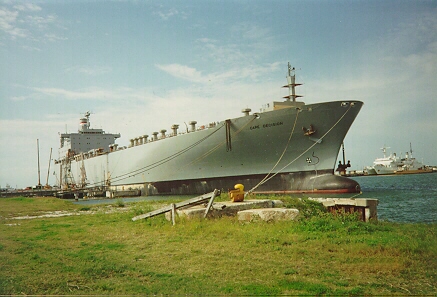 Shipyard
Eriksbergs Mekaniska Verkstads A/B
General Type
Roll On - Roll Off (RO/RO)
Specific Type
Roll On/Roll Off
Displacement, Lightweight
Historical Narrative
---
There is no historical narrative for this vessel at this time.
Vessel Name History
1973 - 1985:
Tombarra
1985 - present:
Cape Decision
Photo Captions
1.)
Cape Decision
, at dock.  MARAD file photo.
2.)
Cape Decision
's stern ramp.  MARAD file photo.
3.) An M113 command and control vehicle rolls off
Cape Decision
at a port facility in the Arabian Gulf region on 19 Oct 1994. The Ready Reserve Force ship and the equipment being unloaded as part of Operation VIGILANT WARRIOR, the U.S. Armed Forces response to aggressive Iraqi actions towards Kuwait.  US Navy Photo.  # .
4.) Ibid.  US Navy Photo. #
Vessel Name History
Mission
Mission Name
Operation Enduring Freedom/Iraqi Freedom
Historical Documents
No documents for this vessel
Milestones
---
| Event | Date | Content |
| --- | --- | --- |
| Acquisition | 9/23/1985 | CUSTODY TRANSFER |
| Ship Name Change | 10/10/1985 | Ship TOMBARRA changes name to CAPE DECISION |
| Entry | 10/10/1985 | |
| Acquisition | 10/10/1985 | MARAD purchased the vessel |
| Vessel Activation | 2/25/1986 | Operation Ahaus Tara mission. |
| Vessel Activation | 3/2/1986 | Completed Operation Ahaus Tara mission. |
| Vessel Activation | 8/10/1990 | Operation Desert Storm mission. |
| Vessel Activation | 9/29/1990 | Completed Operation Desert Storm mission. |
| Vessel Activation | 8/5/1993 | AWR-3 Diego Garcia mission. |
| Vessel Activation | 11/17/1993 | Completed AWR-3 Diego Garcia mission. |
| Interim Movement | 1/2/1997 | ENRTE: Bahrain |
| Interim Movement | 1/3/1997 | |
| Interim Movement | 1/26/1997 | ENRTE: Charleston SC |
| Interim Movement | 3/2/1997 | |
| Vessel Activation | 3/6/1997 | Conducting sea trial |
| Vessel Activation | 3/8/1997 | Completed sea trial |
| Interim Movement | 7/8/1997 | ENRTE: GMD S/Y in Brooklyn NY |
| Interim Movement | 7/13/1997 | At GMD Shipyard |
| Interim Movement | 9/22/1997 | Shifting to Port Authority Pier 9B |
| Interim Movement | 9/22/1997 | At Port Authority Pier 9B |
| Vessel Activation | 9/29/1997 | Conducting sea trial to Charleston SC |
| Vessel Activation | 10/2/1997 | Completed sea trial in Charleston SC |
| Interim Movement | 2/26/1998 | PENDING: At Metal Trades Inc. |
| Vessel Activation | 9/17/1998 | No Notice Turbo Activation. TA-98-5 |
| Vessel Activation | 9/19/1998 | Completed successful turbo activation mission. |
| Vessel Activation | 9/20/1998 | No-Notice Turbo Activation 98-5 |
| Vessel Activation | 9/22/1998 | Complete no notice turbo activation 98-5 |
| Vessel Activation | 12/8/1999 | No Notice Turbo Activation seatrial 00-1 |
| Vessel Activation | 12/10/1999 | Completed TA 00-1 |
| Vessel Activation | 1/10/2001 | Conducting sea trial |
| Vessel Activation | 1/11/2001 | Completed sea trial |
| Interim Movement | 9/10/2002 | Under tow to Detyens S/Y for drydocking |
| Interim Movement | 9/10/2002 | At Detyens Shipyard |
| Vessel Activation | 10/23/2002 | Conducting sea trial |
| Vessel Activation | 10/26/2002 | Completed sea trial |
| Vessel Activation | 1/17/2003 | Activation in support of Operation Iraqi Freedom. |
| Vessel Activation | 4/29/2003 | End OP IRAQI FREEDOM|MARAD OPCON 4/29/03 |
| Vessel Activation | 1/17/2004 | Commencing OIF II | MSC OPCON 01/17/04 |
| Interim Movement | 1/22/2004 | Commencing cargo ops |
| Interim Movement | 1/25/2004 | Completed cargo ops for OIF II |
| Vessel Activation | 6/7/2004 | Returned from OIF II | MARAD OPCON |
| Vessel Activation | 11/16/2004 | Commencing OIF | MSC OPCON 11/10/04 |
| Vessel Activation | 1/28/2005 | Returned from OIF | MARAD OPCON 01/29/05 |
| Vessel Activation | 5/3/2005 | Conducting sea trial |
| Vessel Activation | 5/6/2005 | Completed sea trial |
| Vessel Activation | 10/29/2005 | Commencing OIF 05-07 | MSC OPCON 10/28/05 |
| Interim Movement | 1/8/2006 | At NWS Charleston discharging cargo |
| Interim Movement | 1/11/2006 | ENRTE: ROS Layberth |
| Interim Movement | 1/11/2006 | Completed cargo discharge at NWS Charleston |
| Interim Movement | 1/15/2006 | ENRTE: Jacksonville, FL to load cargo |
| Interim Movement | 1/16/2006 | In for cargo loading |
| Interim Movement | 1/19/2006 | Completed cargo load and continuing OIF 05-07 |
| Interim Movement | 5/2/2006 | Discharging cargo |
| Interim Movement | 5/4/2006 | Shift from TC Dock to NWS Wharf to load cargo |
| Interim Movement | 5/4/2006 | Loading cargo at NWS Wharf |
| Interim Movement | 5/6/2006 | Completed cargo ops and commencing AFRICAN LION-06 |
| Vessel Activation | 5/29/2006 | Operation New Horizons mission. |
| | 6/11/2006 | "In San Francisco, CA" |
| Interim Movement | 6/11/2006 | In San Francisco, CA |
| Interim Movement | 6/11/2006 | In San Francisco, CA |
| Vessel Activation | 6/12/2006 | Completed Operation New Horizons mission. |
| | 6/13/2006 | Continuing AFRICAN LION-06 |
| | 6/13/2006 | "ENRTE: Everett, WA for cargo loadout" |
| Interim Movement | 6/13/2006 | Continuing in NEW HORIZONS EX to Everett, WA |
| Interim Movement | 6/13/2006 | Continuing AFRICAN LION-06 |
| Interim Movement | 6/13/2006 | ENRTE: Everett, WA for cargo loadout |
| Vessel Activation | 6/13/2006 | CR STYKER-N. EUROPE mission. |
| | 6/15/2006 | Cargo loadout |
| Interim Movement | 6/15/2006 | Cargo loadout |
| Interim Movement | 6/15/2006 | Cargo loadout |
| Vessel Activation | 8/11/2006 | Completed CR STYKER-N. EUROPE mission. |
| Depart | 11/5/2007 | "Shifted to Detyens S/Y Charleston, SC for drydocking." |
| Arrival | 11/5/2007 | "At Detyens S/Y Charleston, SC for drydocking." |
| Depart | 3/8/2008 | "Shifting back to outport Charleston, SC following drydocking." |
| Arrival | 3/8/2008 | "Completed shift from Detyens S/Y Charleston, SC to outport." |
| Vessel Activation | 6/21/2008 | Conducting sea trial. |
| Vessel Activation | 6/23/2008 | "Completed sea trial at Charleston, SC." |
| Vessel Activation | 9/23/2009 | No Notice Turbo Activation. TA-09-4B |
| Vessel Activation | 9/28/2009 | Completed successful Turbo Activation. |
| Vessel Activation | 9/27/2011 | No Notice Turbo Activation. TA-11-EOY |
| Vessel Activation | 10/1/2011 | Completed successful Turbo Activation. |
| Vessel Activation | 6/2/2015 | Conducting maintenance sea trial. |
| Vessel Activation | 6/7/2015 | Completed maintenance sea trial. |
| Emergency Response Support | 9/1/2016 | During Tropical Storm HERMINE, CAPE DECISION successfully completed a Safestor request from the Charleston Sheriff's Department and safely stored six (6) small boats with tailors onboard from September 1-3, 2016. |
Ship Imagery
---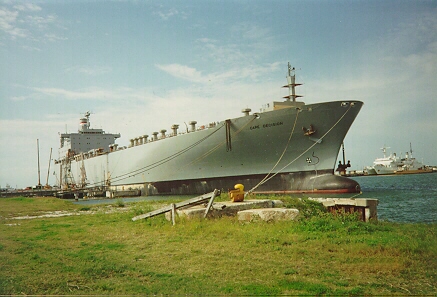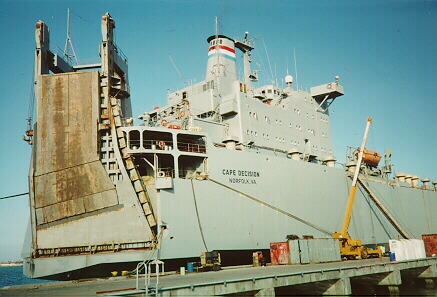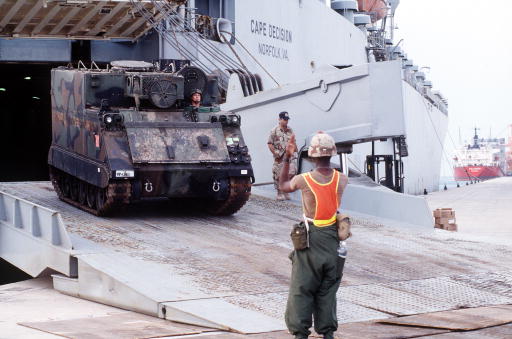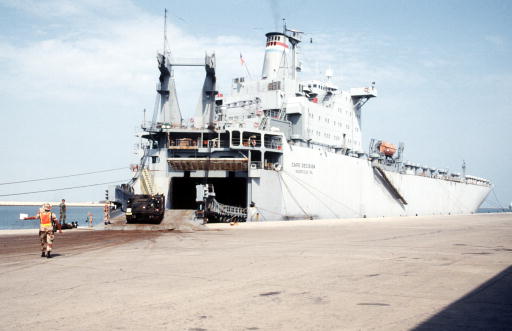 Status Cards
---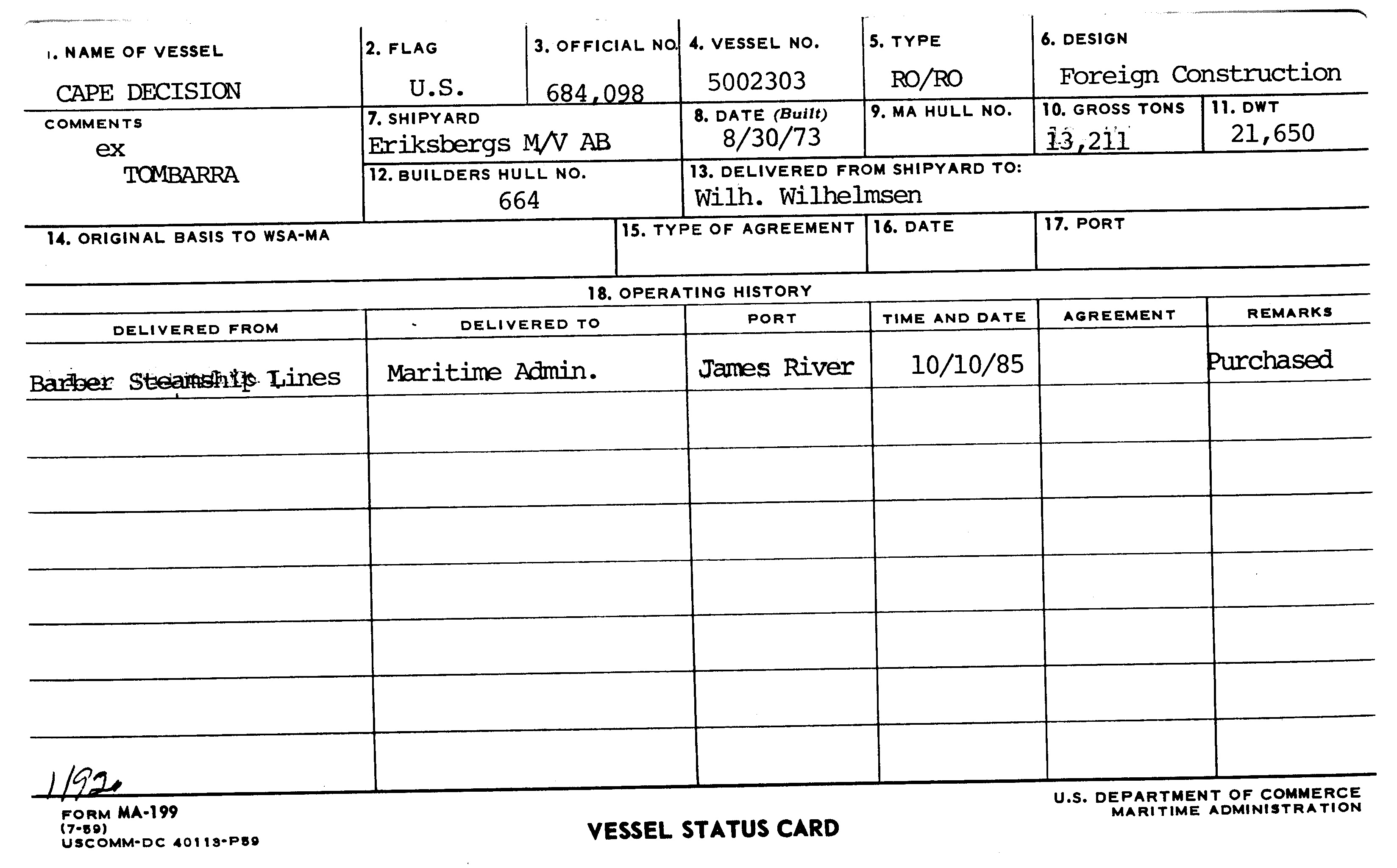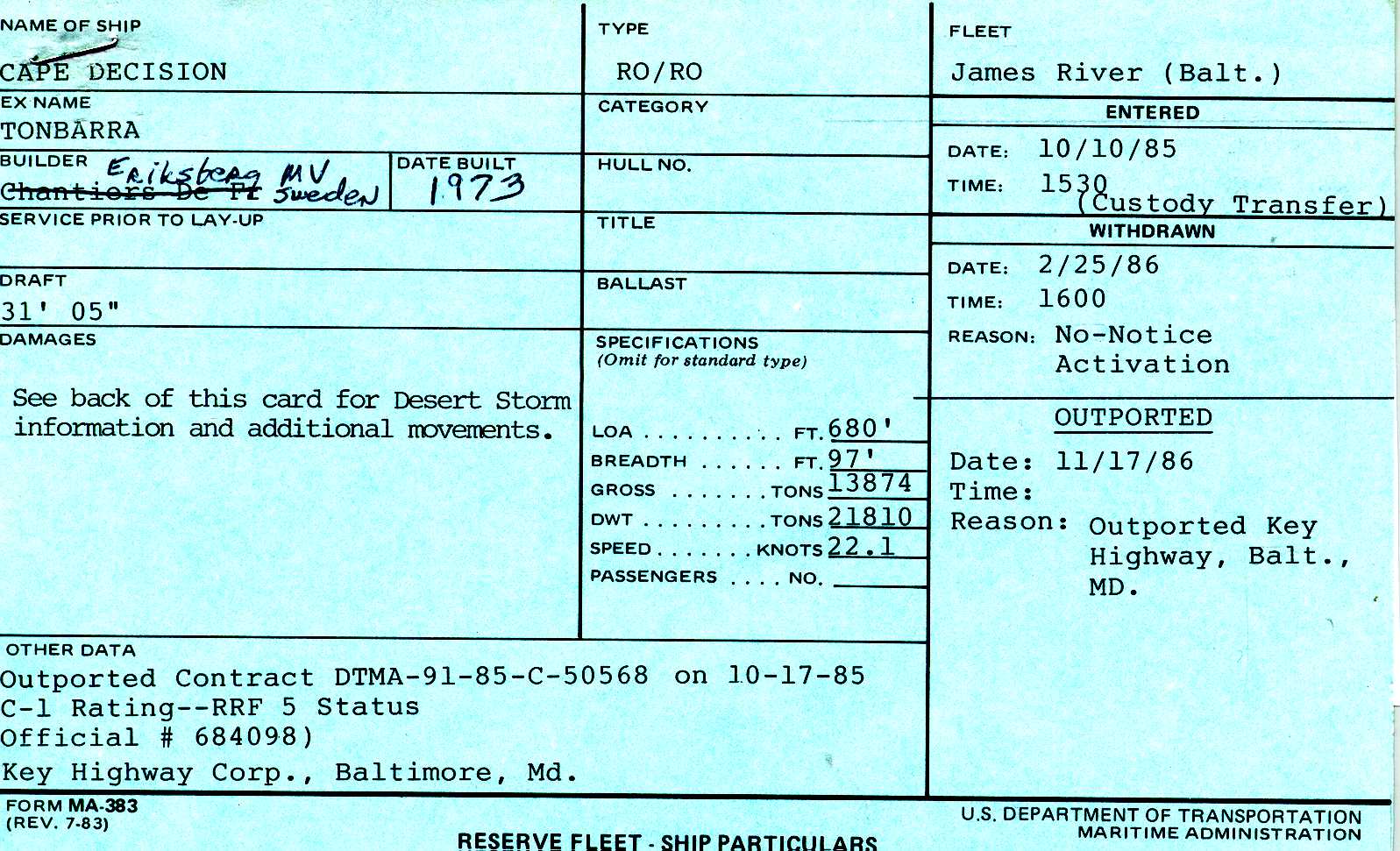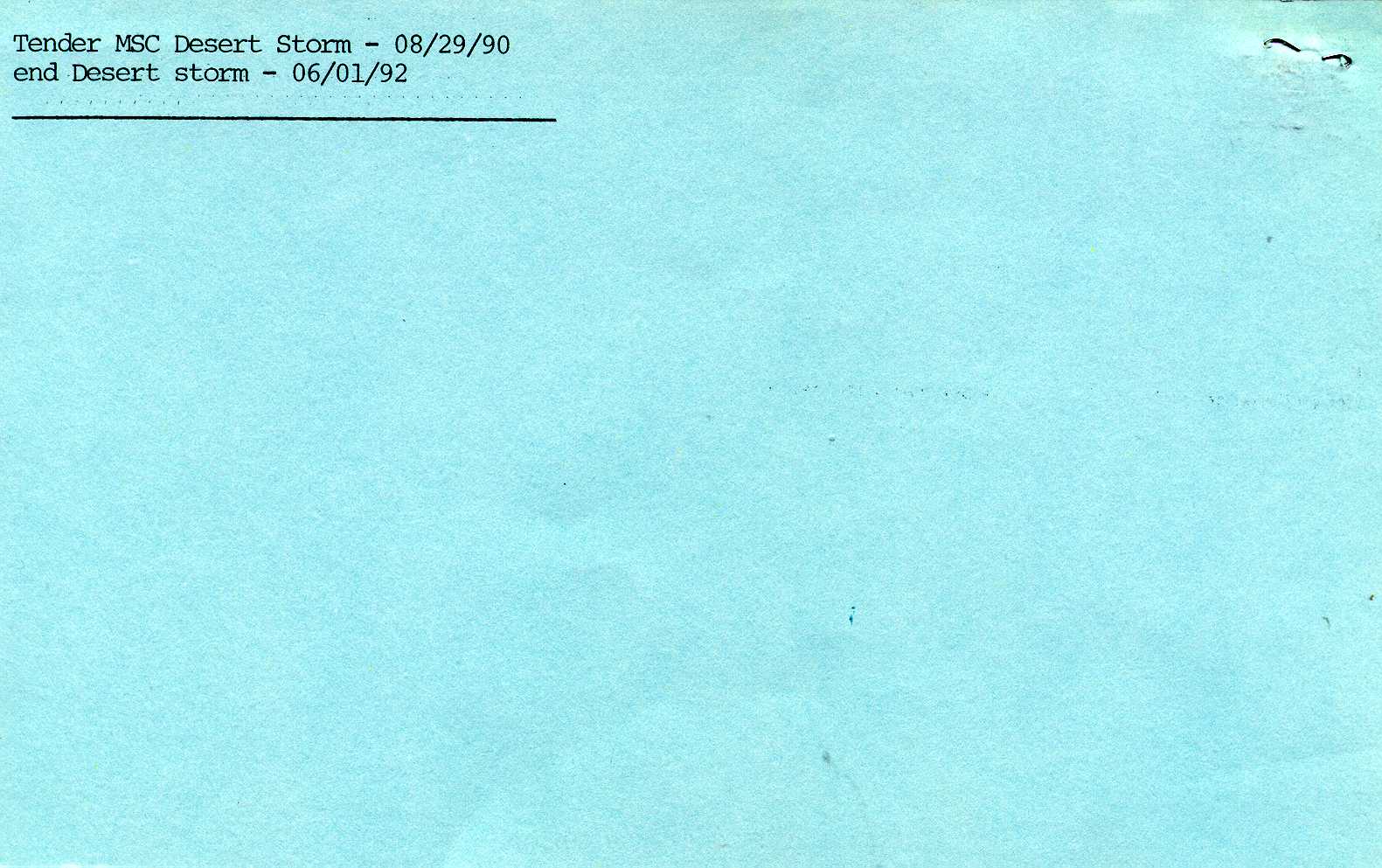 Documents
---
No documents for this vessel
Plans
---
No documents for this vessel
Shipwreck Information
---
No ship wreck information for this vessel