---
Shipyard
Ingalls Shipbuilding Corporation
General Type
Naval Combatant
Specific Type
Naval Combatant Other
Displacement, Lightweight
Historical Narrative
---
In 1953 the U.S. Navy designed and ordered the USS
Glacier
, which was built by Ingalls Shipbuilding Corporation in Pascagoula, Mississippi.  Icebreaking was
Glacier
's primary mission, but it was sometimes needed to tow vessels through the ice. 
The ship began service in 1955 and is the last remaining vessel from the U.S. Navy's icebreaking fleet.  It served the Navy for 11 years before the Coast Guard acquired the ship on June 30, 1966 and renamed it USCGC
Glacier
. 
The
Glacier
served the Coast Guard for 32 years. The ship is notable as a polar icebreaker and for penetrating the Antarctic during 29 deployments and 10 in the Arctic.
Glacier
proved critical in establishing permanent American bases in the Antarctic.  At the time
Glacier
began service, it was the most powerful icebreaker in existence and it made some of the earliest and longest penetration into Antarctica's ice field.
The
Glacier
also demonstrated its value in mapping Antarctica (both aerial and underwater) using helicopters and sophisticated equipment.  The ship's design allowed it to break ice up to 20 feet in thickness and travel non-stop for extended periods. 
The Coast Guard decommissioned the
Glacier
in 1987.  The ship entered the Maritime Administration's Suisun Bay Reserve Fleet in Benicia, California on October 3, 1991 as a reimbursable custody vessel; the Maritime Administration took title in December, 1998.  It was sold for dismantlement on April 17, 2012.
The Maritime Administration completed a National Register eligibility assessment of
Glacier,
which includes a detailed history.  The National Park Service has also done a HAER survey of the vessel.  Both reports can be viewed in the "Documents" section.
Vessel Name History
Mission
No Mission for this vessel
Milestones
---
| Event | Date | Content |
| --- | --- | --- |
| Entry | 10/3/1991 | Reimbursable with USCG |
| Acquisition | 12/1/1998 | MARAD takes title of Glacier |
| | 9/7/2007 | Donation Hold expired August 2007. |
| Disposal | 8/1/2011 | Completed historic review. |
| Ship name change | 3/8/2012 | |
| Withdrawal | 4/17/2012 | Vessel departed under domestic sale contract with ESCO Marine, Inc. in Brownsville, TX. |
Ship Imagery
---
Status Cards
---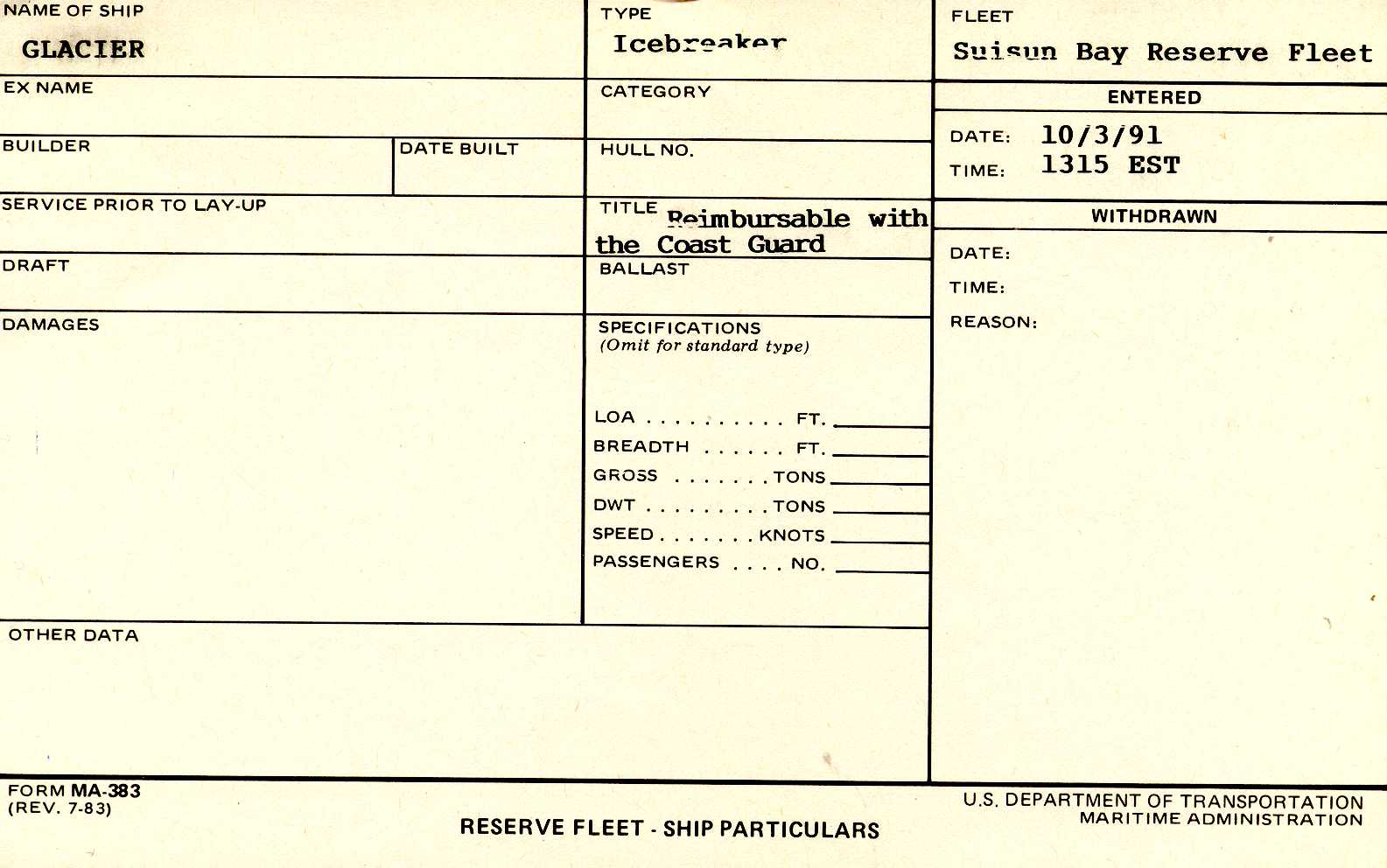 Documents
---
| | Date | Type | Name | Download |
| --- | --- | --- | --- | --- |
| | 1/14/2011 | | Glacier_NHPA_History.pdf | |
| | 8/1/2011 | | Glacier_Memorandum_of_Agreement.pdf | |
| | (No Date) | | Glacier_HAER_Survey.pdf | |
Plans
---
No documents for this vessel
Shipwreck Information
---
No ship wreck information for this vessel