---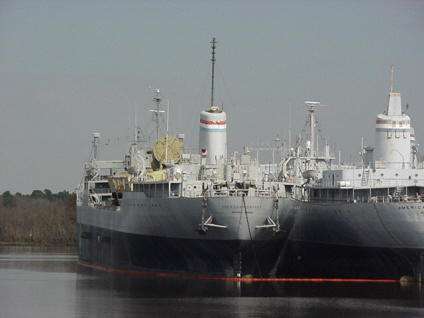 Shipyard
Bethlehem-Fairfield Shipyard
Specific Type
Tanker - LNG
Displacement, Lightweight
Historical Narrative
---
The Maritime Administration's National Register Eligibility Assessment for
American Osprey,
available in the Documents section, contains a detailed history of the vessel.
American Osprey
was withdrawn from the National Defense Reserve Fleet on May 19, 2009 when it departed Beaumont Reserve Fleet after being sold for dismantlment.
Vessel Name History
1958 - 1984:
Gulf Prince
1984 - 2009:
American Osprey
Vessel Name History
Mission
No Mission for this vessel
Milestones
---
Event: Ship Name Change
Date: 1/1/0001

Ship GULF PRINCE changes name to AMERICAN OSPREY
Event: Acquisition
Date: 5/30/1984


Event: Entry
Date: 6/5/1984


Event: Activation
Date: 8/31/1990

Vessel was activated for Desert Shield/Desert Storm
Event: Prepositioning
Date: 3/1/1991

Vessel was assigned to the Afloat Prepositioning Force at Diego Garcia.
Event: Interim Movement
Date: 2/27/1997

ENRTE: Saipan
Event: Interim Movement
Date: 2/28/1997


Event: Interim Movement
Date: 3/3/1997

ENRTE: Guam
Event: Interim Movement
Date: 3/3/1997


Event: Interim Movement
Date: 3/29/1997

ENRTE: Saipan
Event: Interim Movement
Date: 3/29/1997


Event: Interim Movement
Date: 3/30/1997

ENRTE: Guam
Event: Interim Movement
Date: 3/31/1997


Event: Interim Movement
Date: 4/14/1997

Underway in the vicinity of Guam
Event: Interim Movement
Date: 4/19/1997


Event: Interim Movement
Date: 5/20/1997

Conducting Independent Steaming Exercise
Event: Interim Movement
Date: 5/22/1997

Completed Independent Steaming Exercise
Event: Interim Movement
Date: 6/18/1997

Conducting Independent Steaming Exercise
Event: Interim Movement
Date: 6/20/1997

Completed Independent Steaming Exercise
Event: Interim Movement
Date: 7/16/1997

Conducting Independent Steaming Exercise
Event: Interim Movement
Date: 7/17/1997

Completed Independent Steaming Exercise
Event: Interim Movement
Date: 8/20/1997

Conducting Independent Steaming Exercise
Event: Interim Movement
Date: 8/22/1997

Completed Independent Steaming Exercise
Event: Interim Movement
Date: 9/16/1997

Conducting Independent Steaming Exercise
Event: Interim Movement
Date: 9/18/1997

Completed Independent Steaming Exercise
Event: Interim Movement
Date: 10/7/1997

Conducting Independent Steaming Exercise
Event: Interim Movement
Date: 10/9/1997

Completed Independent Steaming Exercise
Event: Interim Movement
Date: 10/14/1997

Departed to avoid typhoon
Event: Interim Movement
Date: 10/16/1997

Returned after typhoon sortie
Event: Interim Movement
Date: 10/31/1997

Avoiding Typhoon Keith
Event: Interim Movement
Date: 11/4/1997

Returned from Typhoon Keith sortie
Event: Interim Movement
Date: 12/15/1997

Avoiding Super Typhoon Paka
Event: Interim Movement
Date: 12/18/1997

Returned after typhoon sortie
Event: Interim Movement
Date: 1/7/1998

Conducting Independent Steaming Exercise
Event: Interim Movement
Date: 1/8/1998

Completed Independent Steaming Exercise
Event: Interim Movement
Date: 3/25/1998

Conducting Independent Steaming Exercise
Event: Interim Movement
Date: 3/27/1998

Completed Independent Steaming Exercise
Event: Interim Movement
Date: 4/13/1998

Conducting Independent Steaming Exercise
Event: Interim Movement
Date: 4/16/1998

Completed Independent Steaming Exercise
Event: Interim Movement
Date: 5/21/1998

ENRTE: Okinawa Japan w/ETA 05/24/98
Event: Interim Movement
Date: 5/24/1998

In Okinawa Japan
Event: Interim Movement
Date: 5/29/1998

ENRTE: Guam
Event: Interim Movement
Date: 6/2/1998

Returned from Okinawa Japan
Event: Interim Movement
Date: 7/20/1998

ENRTE: Saipan
Event: Interim Movement
Date: 7/21/1998

In Saipan w/ETD 07/26/98
Event: Interim Movement
Date: 7/26/1998

ENRTE: Guam w/ETA 07/27/98
Event: Interim Movement
Date: 7/27/1998


Event: Interim Movement
Date: 9/1/1998

Conducting ISE
Event: Interim Movement
Date: 9/3/1998

Completed ISE
Event: Interim Movement
Date: 10/13/1998

Conducting ISE
Event: Interim Movement
Date: 10/14/1998

Completed ISE
Event: Interim Movement
Date: 11/10/1998

ENRTE: Sasebo Japan to discharge cargo
Event: Interim Movement
Date: 11/14/1998

In Sasebo Japan for cargo disc
Event: Interim Movement
Date: 11/17/1998

ENRTE: Pusan South Korea
Event: Interim Movement
Date: 11/18/1998


Event: Interim Movement
Date: 11/19/1998

ENRTE: Panama Canal
Event: Interim Movement
Date: 11/24/1998

Medical diversion 11/22; crewman injured
Event: Interim Movement
Date: 11/24/1998

ENRTE: Panama Canal w/ETA 12/02/98
Event: Interim Movement
Date: 12/27/1998

Tampa S/Y for deact/MARAD OPCON 12/27/98
Event: Interim Movement
Date: 1/25/1999

Under tow to Port of Orange TX / deact
Event: Interim Movement
Date: 1/30/1999

In for deactivation at Port of Orange
Event: Interim Movement
Date: 4/8/1999

Under tow to BRF
Event: Interim Movement
Date: 4/8/1999

Return following completed deactivation
Event: Entry
Date: 4/1/2000


Event:
Date: 10/1/2008


Event: Withdrawal
Date: 5/19/2009


Ship Imagery
---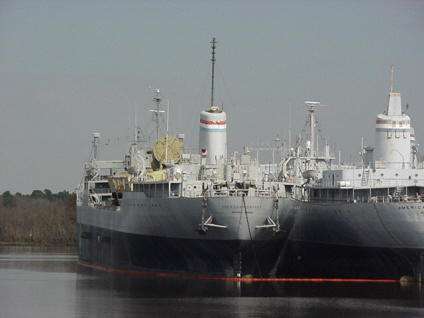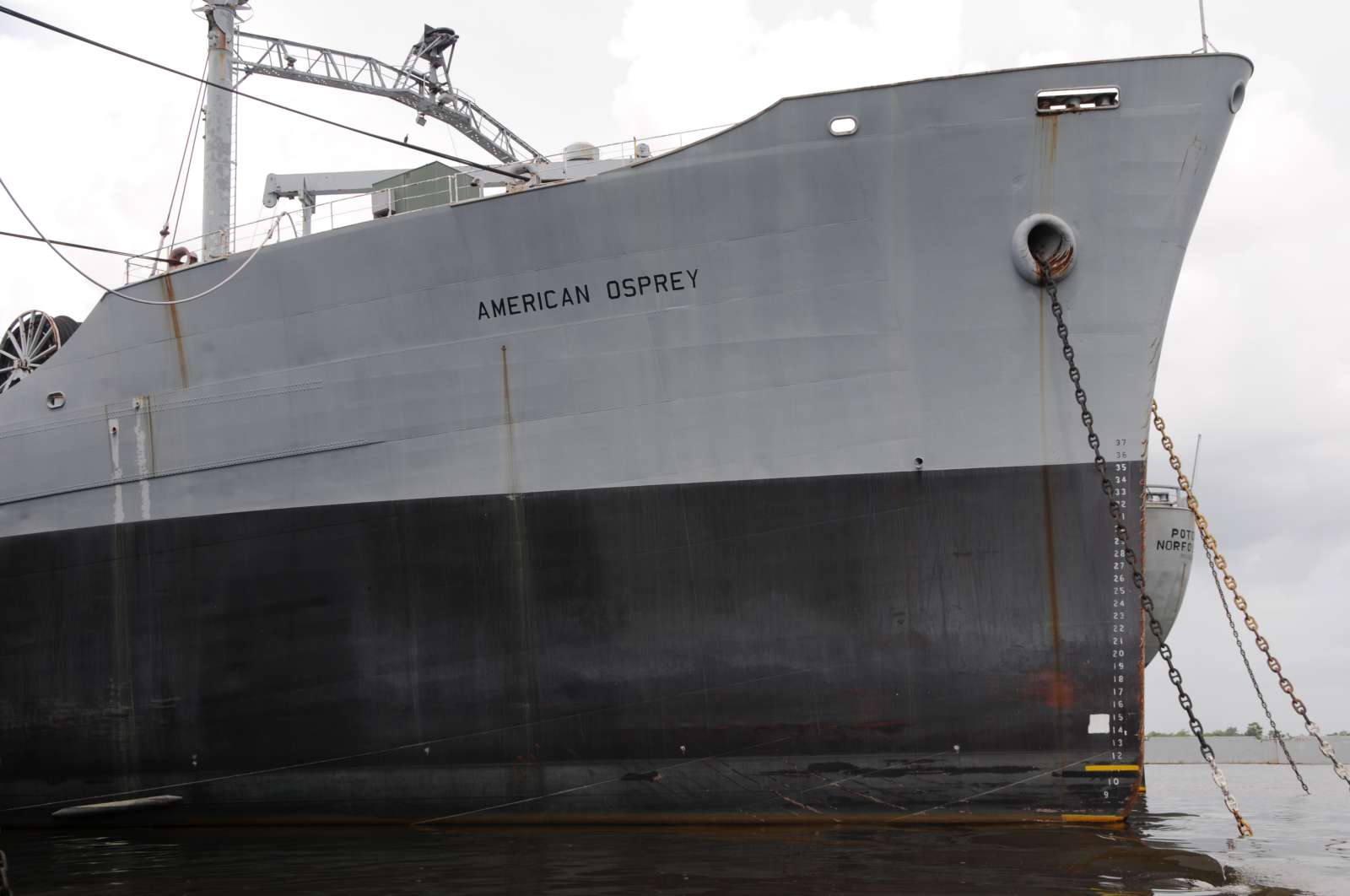 Status Cards
---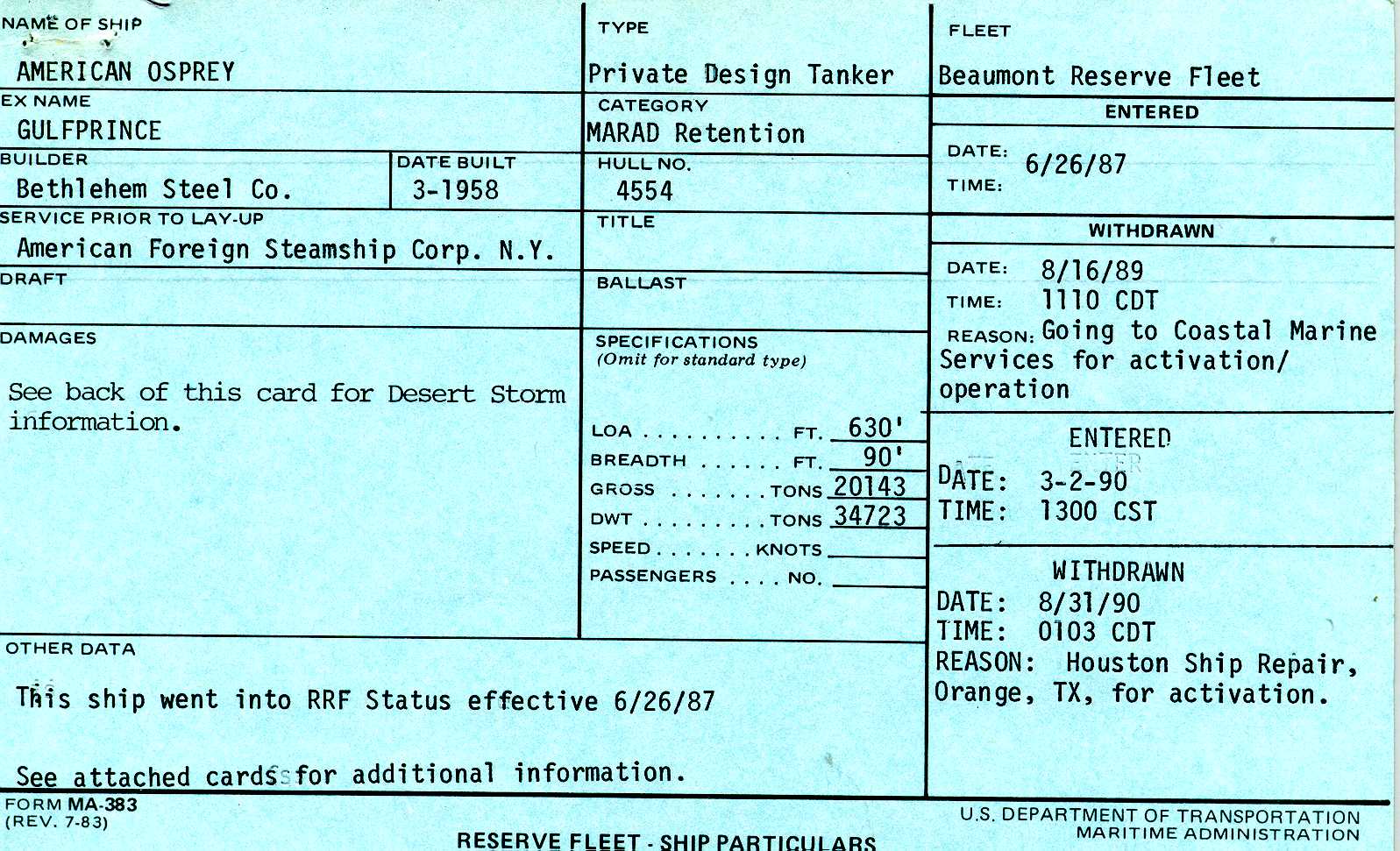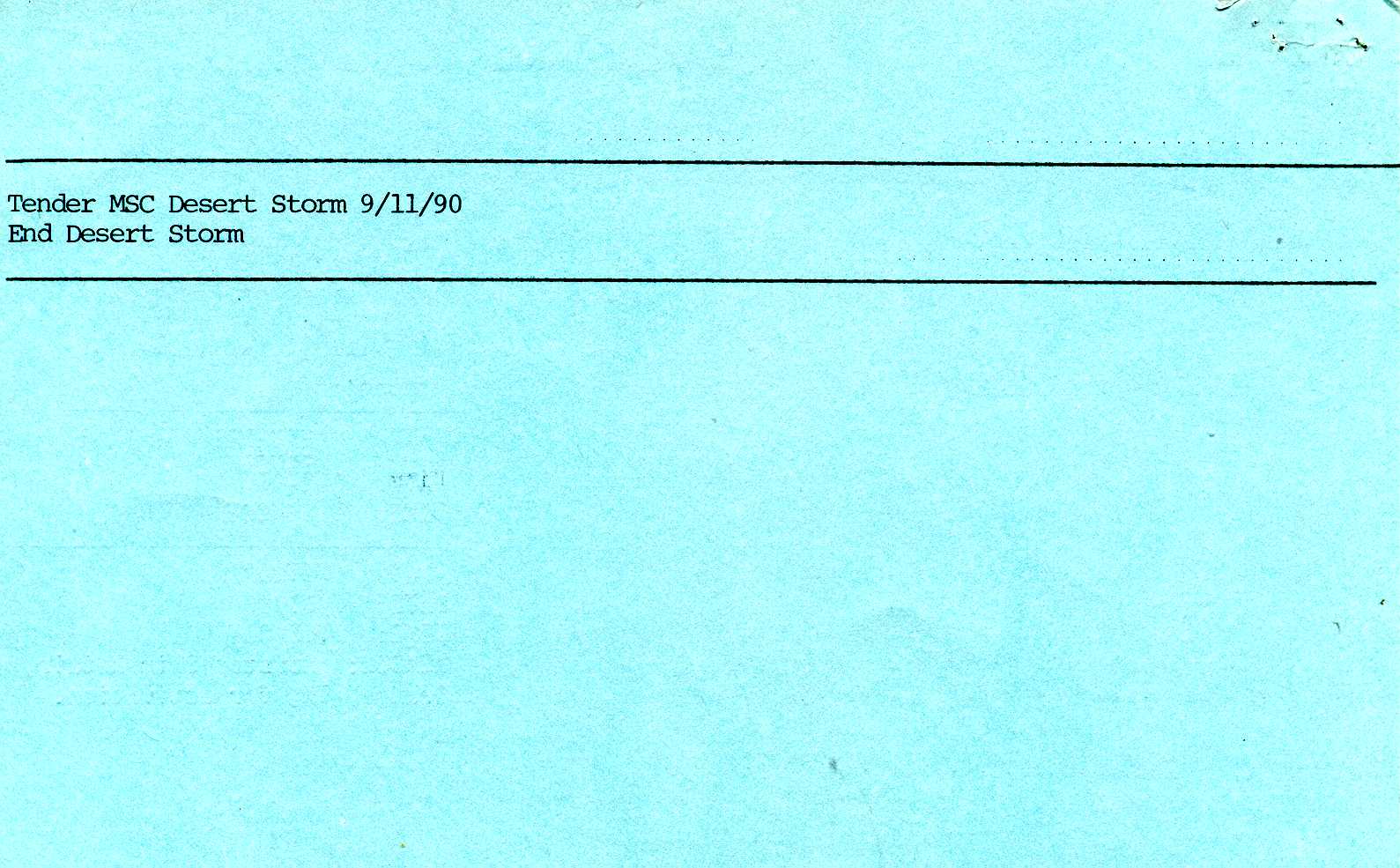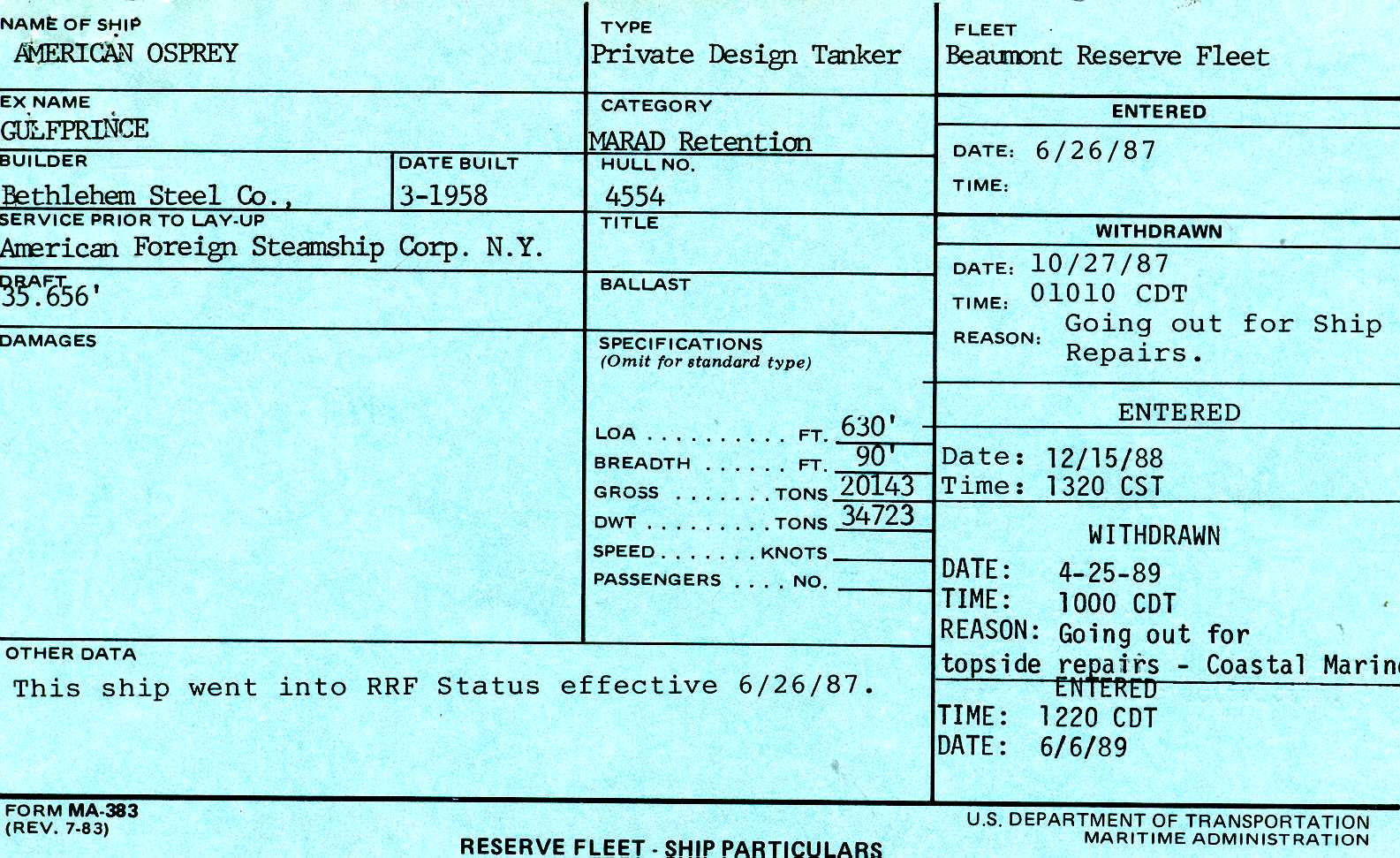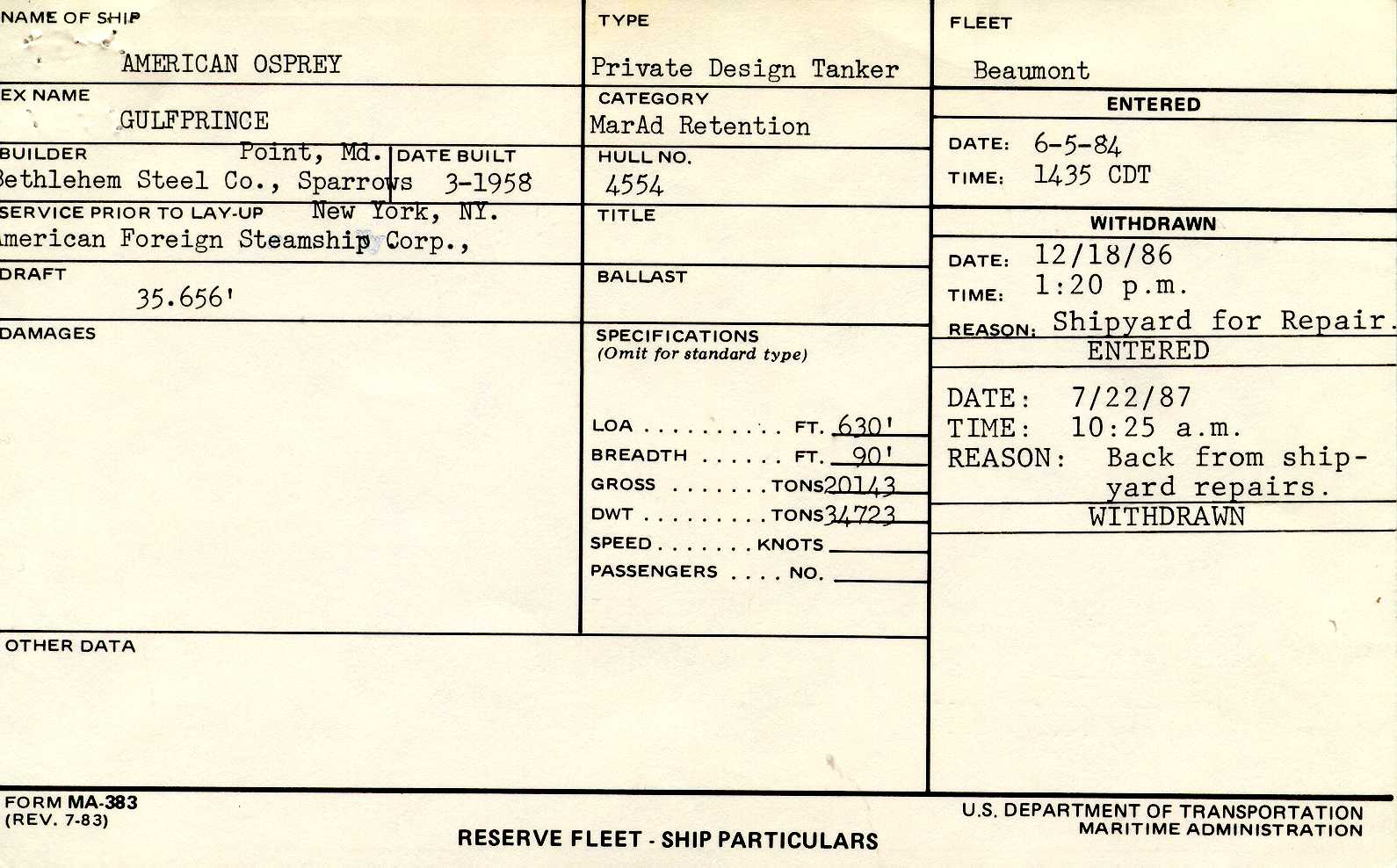 Plans
---
No documents for this vessel
Shipwreck Information
---
No ship wreck information for this vessel