---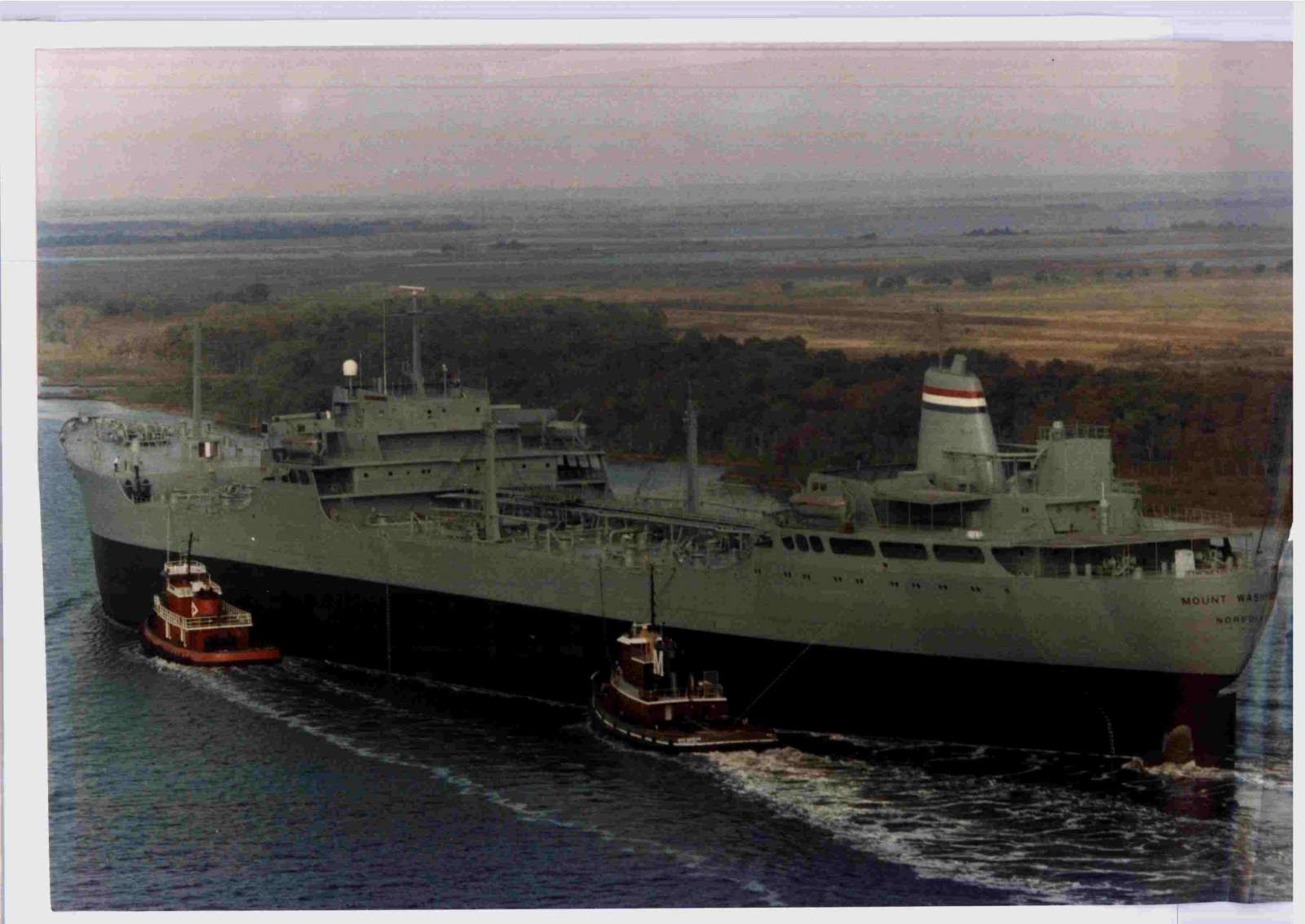 Shipyard
Bethlehem Steel, Shipbuilding Div. (Quincy)
Specific Type
LNG Liquefied Natural Gas
Displacement, Lightweight
Historical Narrative
---
The Mount Washington was a petroleum tanker built as the Mount Washington Victory in 1963 by the Bethlehem Steel Company shipyard in Quincy, Massachusetts. 

Owned by Victory Carriers, the vessel was charted by the Military Sea Transportation Service (MSTS), now known as Military Sealift Command.  The Maritime Administration took title of the vessel and renamed it Mount Washington in November 1987.  Mount Washington entered the Ready Reserve Force (RRF) in October 1989.
In 1993, the Maritime Administration substantially refitted Mount Washington, adding an Offshore Petroleum Distribution System (OPDS) to the vessel.  OPDS is designed to transfer petroleum products directly from an offshore tanker to support military operations on shore. A pipeline is run to the beach from a mooring buoy where tankers can attach and pump fuel to onshore storage facilities. The OPDS is particularly effective at locations where fuel piers are unavailable, and tankers are unable to tie up ashore to off-load fuel.
In April 2005, the Maritime Administration downgraded Mount Washington to the National Defense Reserve Fleet, and it was moved to the Suisun Bay Reserve Fleet anchorage later that year.  The vessel was further downgraded to non-retention status in October 2007. 

Mount Washington departed the Suisun Bay Reserve Fleet on November 18, 2013 after it had been sold to be recycled.

The Maritime Administration completed a National Register of Historic Places eligibility assessment for Mount Washington which includes a narrative history of the vessel.  It can be viewed in the Documents section.

Vessel Name History
Mission
No Mission for this vessel
Milestones
---
| Event | Date | Content |
| --- | --- | --- |
| Acquisition | 11/5/1987 | MARAD acquired title; renamed vessel from MOUNT WASHINGTON VICTORY to MOUNT WASHINGTON |
| RRF | 1/30/1989 | Upgraded to Ready Reserve Force. |
| Interim Movement | 2/27/1998 | ENRTE: Tamp Bay SB & DD for drydocking |
| Interim Movement | 3/3/1998 | At Tampa Bay Shipbuilding and Drydock |
| Interim Movement | 3/27/1998 | Conducting sea trial to Houston TX |
| Interim Movement | 3/30/1998 | Completed sea trial |
| Interim Movement | 9/12/1998 | No-Notice Turbo Activation 98-4 |
| Interim Movement | 9/15/1998 | Completed Turbo Activation |
| Interim Movement | 4/19/1999 | Under tow to City Docks #4 |
| Interim Movement | 4/19/1999 | At City Dock #4 |
| Interim Movement | 5/13/2000 | ENRTE: Tampa Shipyard |
| Interim Movement | 5/16/2000 | |
| Interim Movement | 6/4/2000 | Conducting sea trial to Houston |
| Interim Movement | 6/8/2000 | Completed sea trial and return from S/Y |
| Interim Movement | 6/9/2001 | Parted dock after being struck by barge |
| Interim Movement | 6/11/2001 | Relocated outboard DIAMOND ST. @ Pier 15 |
| Interim Movement | 7/7/2001 | Under tow for repair to Port of OrangeTX |
| Interim Movement | 7/8/2001 | In for rudder repairs |
| Interim Movement | 9/21/2001 | Relocating to repair berth |
| Interim Movement | 9/21/2001 | At CBH for repairs |
| Interim Movement | 11/18/2001 | ENRTE: Detyens S/Y Charleston SC |
| Interim Movement | 11/22/2001 | At Detyens S/Y for OPDS crane install |
| Interim Movement | 2/27/2002 | Conducting activation sea trial |
| Interim Movement | 2/28/2002 | Sea trial complete|Drop sea trial riders |
| Interim Movement | 2/28/2002 | ENRTE: San Diego CA | MSC OPCON |
| Interim Movement | 3/15/2002 | Uploading OUB's and support equipment |
| Interim Movement | 4/17/2002 | ENRTE: New outport berth in San Fran CA |
| Interim Movement | 4/25/2002 | At new outport berth Pier 50|MARAD OPCON |
| Interim Movement | 11/19/2002 | To anchorage at San Francisco Bay |
| Interim Movement | 11/19/2002 | At anchorage in San Francisco Bay |
| Interim Movement | 11/19/2002 | ENRTE: Cascade General |
| Interim Movement | 11/21/2002 | At Cascade General for repairs |
| Interim Movement | 1/22/2003 | ENRTE: San Francisco Pier 50 |
| Interim Movement | 1/25/2003 | Returned from repairs |
| Interim Movement | 2/2/2004 | S/T to San Diego CA | MSC OPCON 02/1/04 |
| Interim Movement | 2/4/2004 | Completed sea trial |
| Interim Movement | 2/6/2004 | Commencing JLOTS NEW HORIZONS Exercise |
| Interim Movement | 3/25/2004 | Completed JLOTS NEW HORIZONS Exercise |
| Downgrade | 4/28/2005 | Ship downgraded from RRF to Retention Logistics Support. |
| Interim Movement | 6/1/2005 | Under tow to SBRF |
| Interim Movement | 6/1/2005 | NDRF Lay-up |
| Interim Movement | 6/30/2005 | |
| Disposal | 11/2/2011 | Cleared historic review. |
| Withdrawal | 11/18/2013 | Vessel departed under domestic sale. |
Ship Imagery
---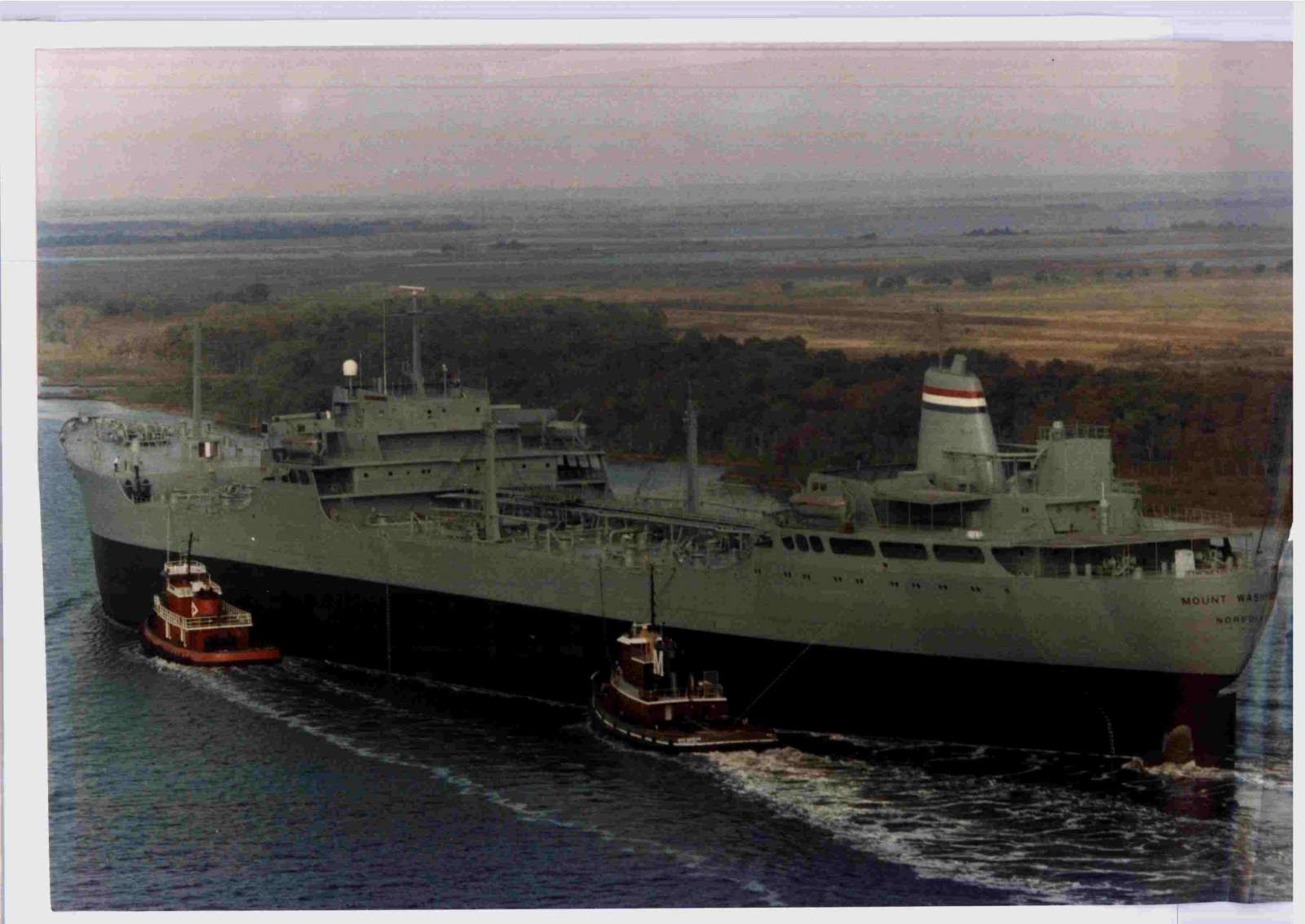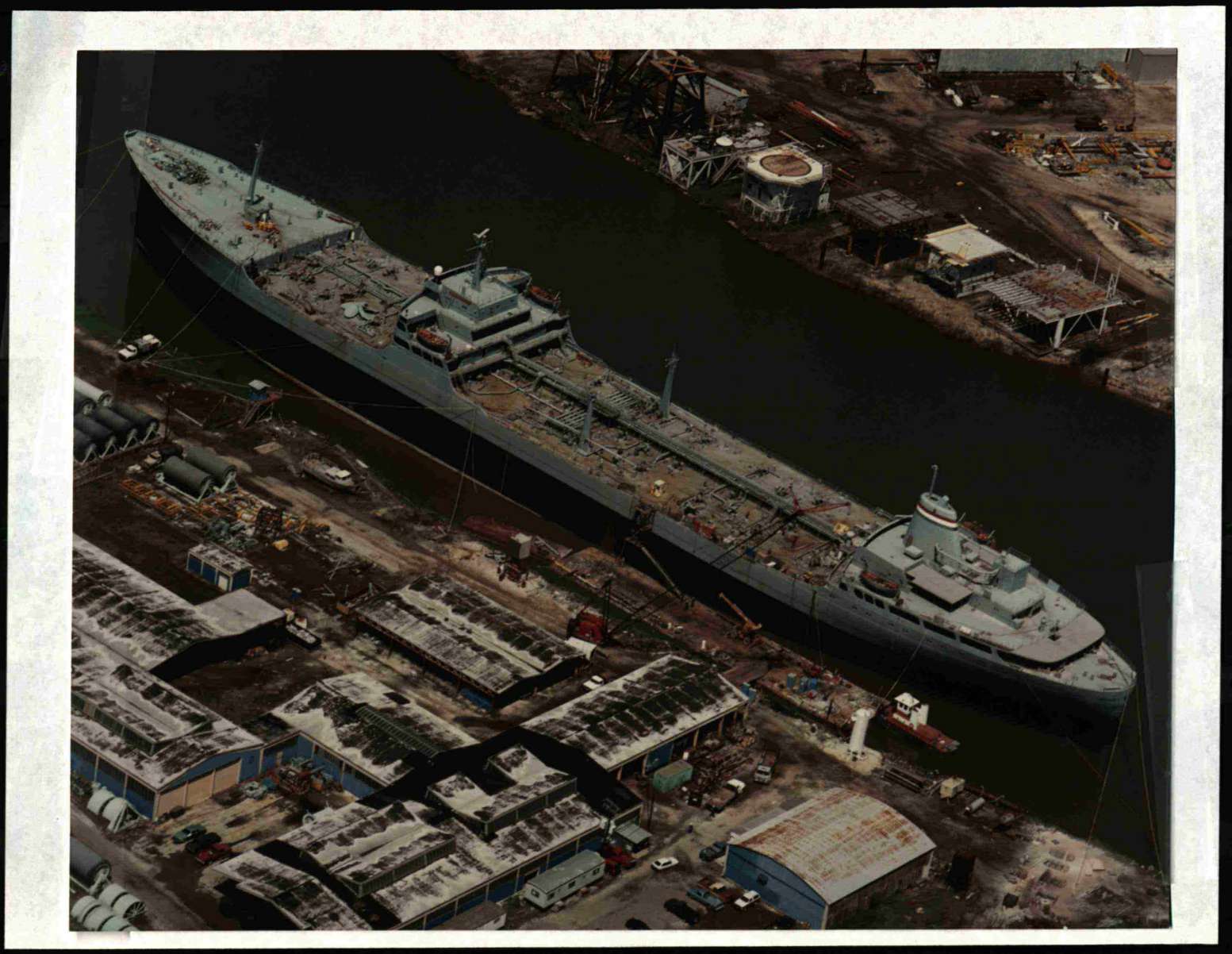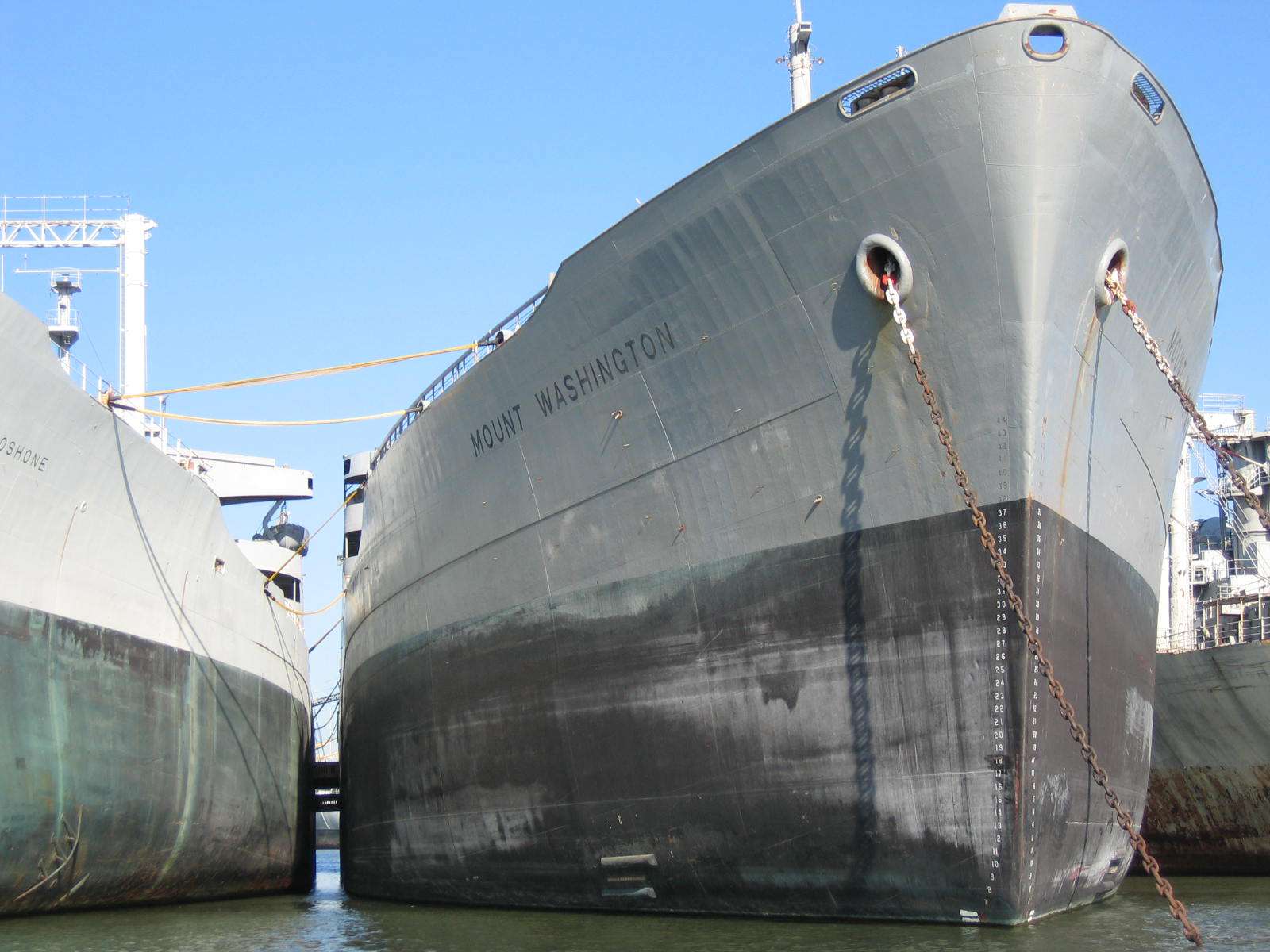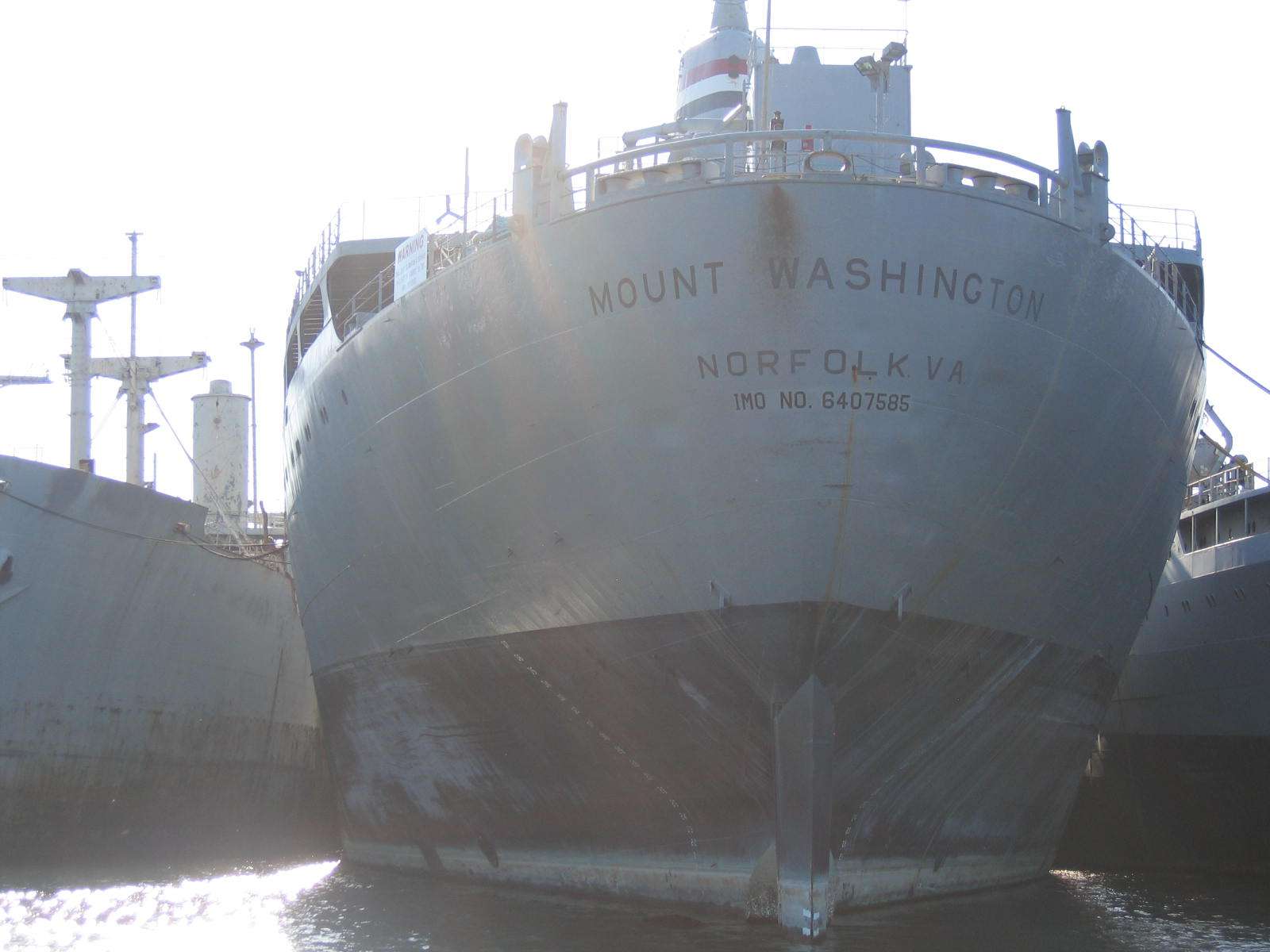 Status Cards
---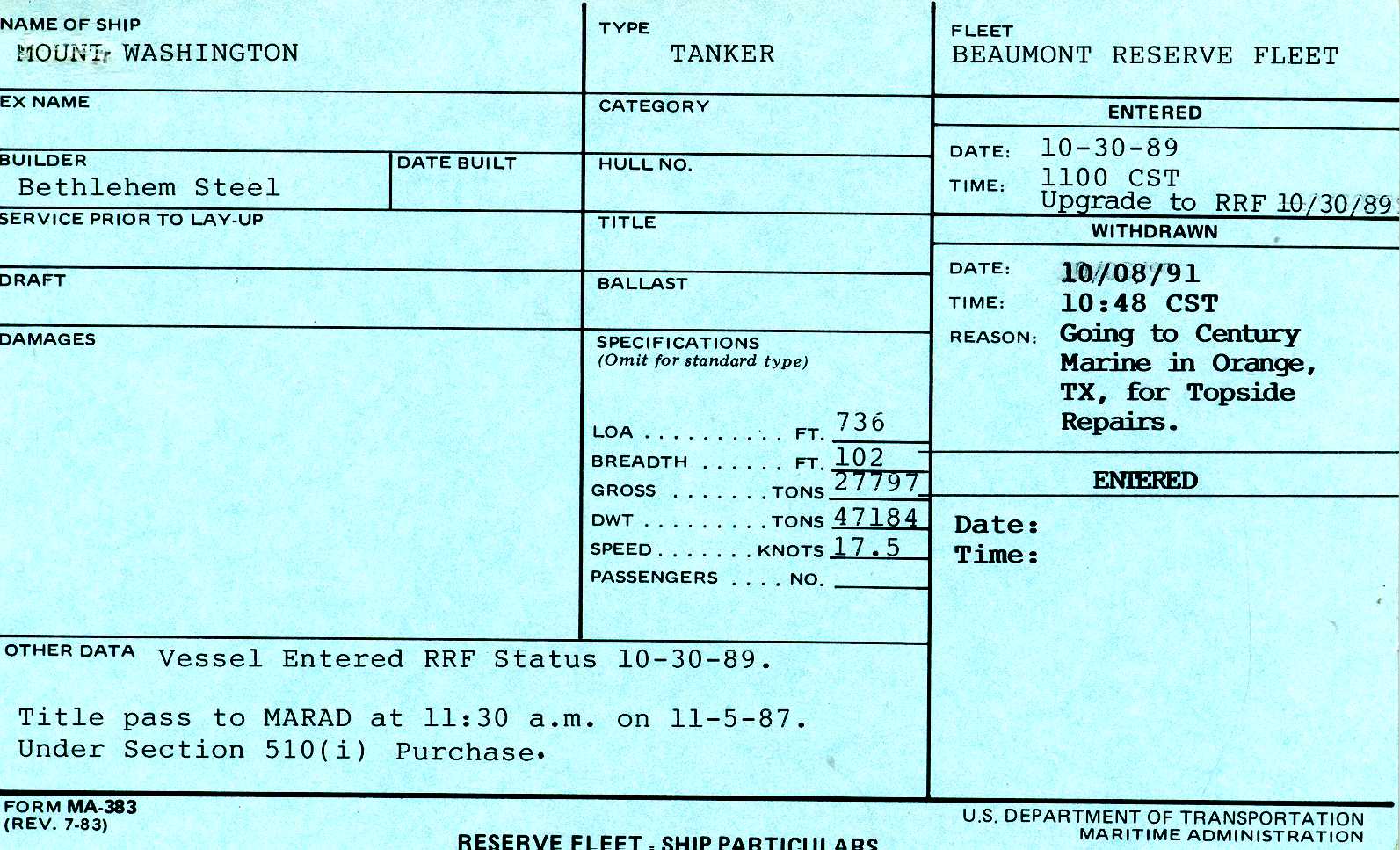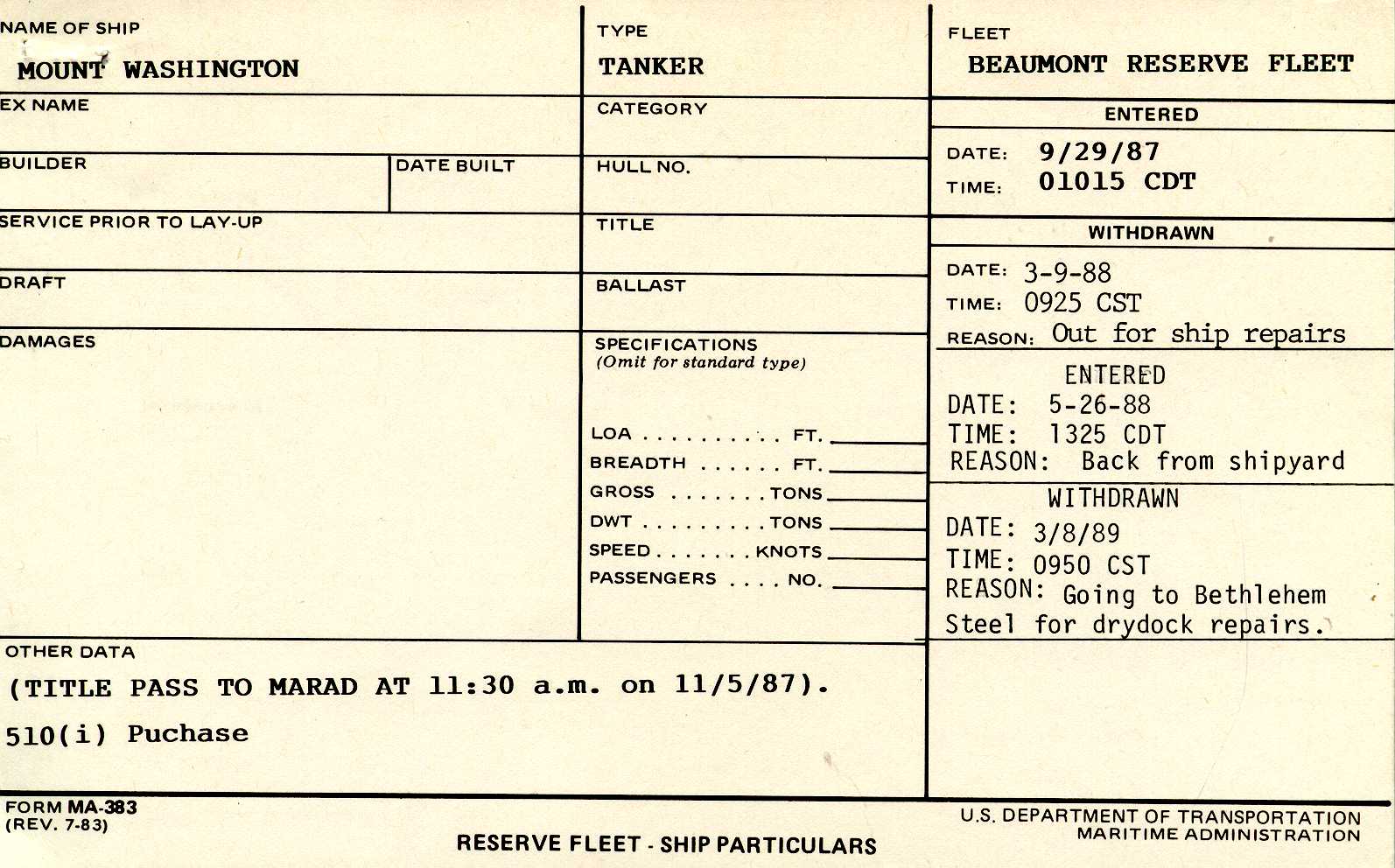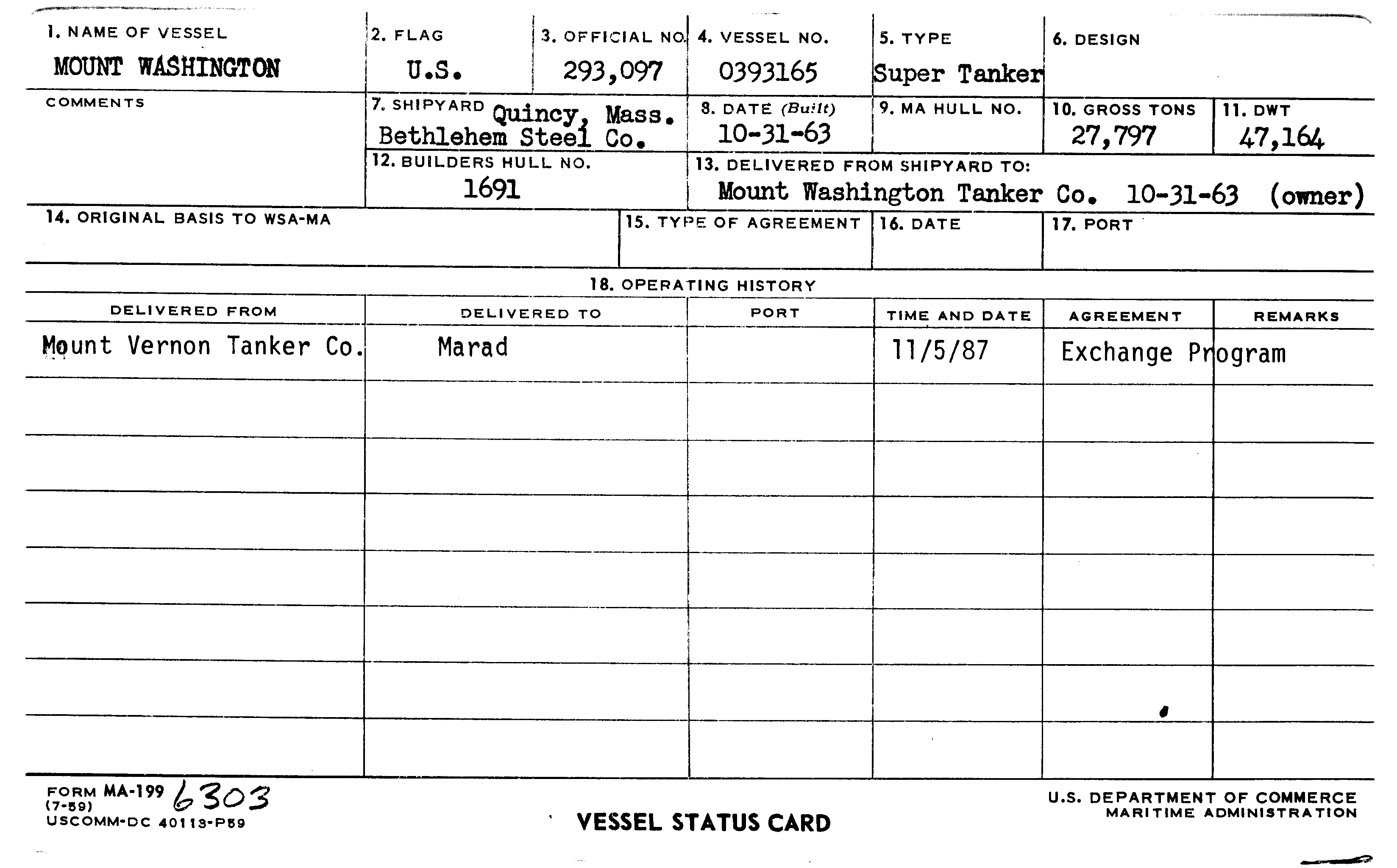 Documents
---
| | Date | Type | Name | Download |
| --- | --- | --- | --- | --- |
| | 10/27/2011 | | National Register Eligibility Assessment Mount Washington.pdf | |
| | 6/28/2019 | | SALM for Mt Washington report.pdf | |
Plans
---
No documents for this vessel
Shipwreck Information
---
No ship wreck information for this vessel