---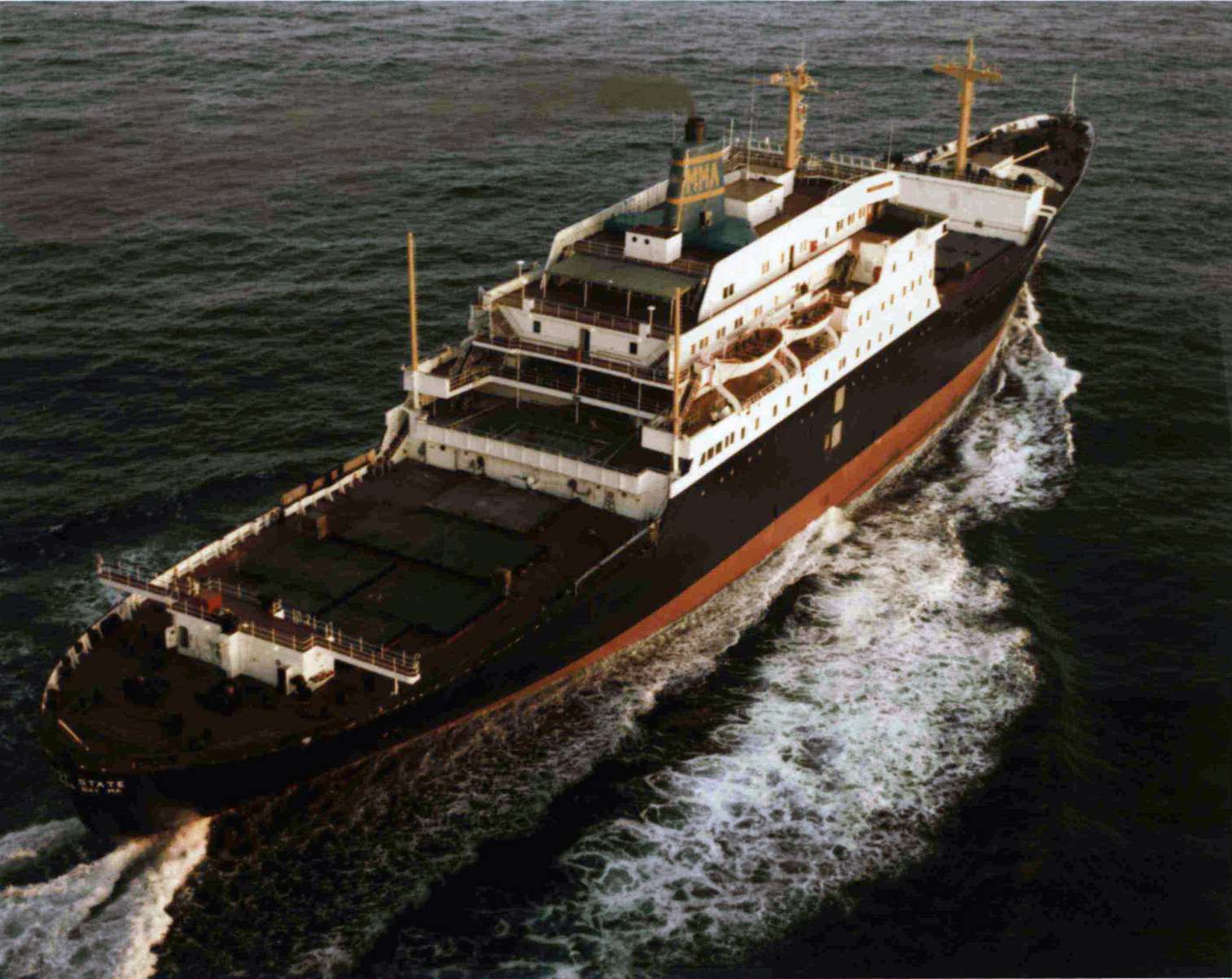 Shipyard
Bethlehem-Sparrows Point Shipyard
Displacement, Lightweight
Historical Narrative
---
The Maritime Administration's National Register Eligibility Assessment for
Patriot State,
available in the Documents section, contains a detailed history of the vessel.
TS
Patriot State
was withdrawn from the National Defense Reserve Fleet upon its departure, following sale for dismantlement, on September 15, 2011.
The National Park Service completed a HAER Survey for this vessel.  The report, which contains a detailed history, can be found in the Documents section.

Vessel Name History
1964 - 1984:
Santa Mercedes
1984 - 2011:
Patriot State
Vessel Name History
Mission
No Mission for this vessel
Milestones
---
| Event | Date | Content |
| --- | --- | --- |
| Acquisition | 1/30/1984 | ex SANTA MERCEDES 84 |
| Interim Movement | 1/12/1997 | ENRTE: New Orleans LA |
| Interim Movement | 1/31/1997 | Vessel in Vera Cruz Mexico |
| Interim Movement | 2/3/1997 | ENRTE: St John US Virgini Islands |
| Interim Movement | 2/8/1997 | Vessel in the US Virgin Islands |
| Interim Movement | 2/10/1997 | ENRTE: San Juan Puerto Rico |
| Interim Movement | 2/14/1997 | |
| Interim Movement | 2/17/1997 | ENRTE: Buzzards Bay MA |
| Interim Movement | 2/23/1997 | Completed Winter cruise |
| Interim Movement | 1/10/1998 | Commencing Winter sea term |
| Interim Movement | 1/12/1998 | In for bunkers |
| Interim Movement | 1/12/1998 | ENRTE: Panama Canal |
| Interim Movement | 1/18/1998 | Anchored at Cristobal awaiting transit |
| Interim Movement | 1/19/1998 | Transiting Panama Canal for Rodman N.S. |
| Interim Movement | 1/19/1998 | Docked at Rodman Naval Station |
| Interim Movement | 1/22/1998 | ENRTE: Caldera Costa Rica |
| Interim Movement | 1/30/1998 | In Caldera Costa Rica |
| Interim Movement | 2/2/1998 | ENRTE: Rodman Naval Station for bunkers |
| Interim Movement | 2/4/1998 | At Rodman Naval Station for bunkering |
| Interim Movement | 2/5/1998 | Transiting canal for Lee Stocking Island |
| Interim Movement | 2/8/1998 | At Lee Stocking Island MSEP Field Trip |
| Interim Movement | 2/9/1998 | ENRTE: Fort Lauderdale FL |
| Interim Movement | 2/13/1998 | |
| Interim Movement | 2/16/1998 | ENRTE: Buzzards Bay MA |
| Interim Movement | 2/22/1998 | Completed Winter cruise term |
| Interim Movement | 11/30/1999 | ENRTE: JRRF |
| Interim Movement | 12/2/1999 | New homeport is JRRF |
| | 10/17/2007 | 2001 MOA for use as static training platform. Stripping completed May 2007. |
| Section 106 concurrence letter | 7/16/2009 | |
| Withdrawal | 9/15/2011 | Departed under a domestic scrap sale |
Ship Imagery
---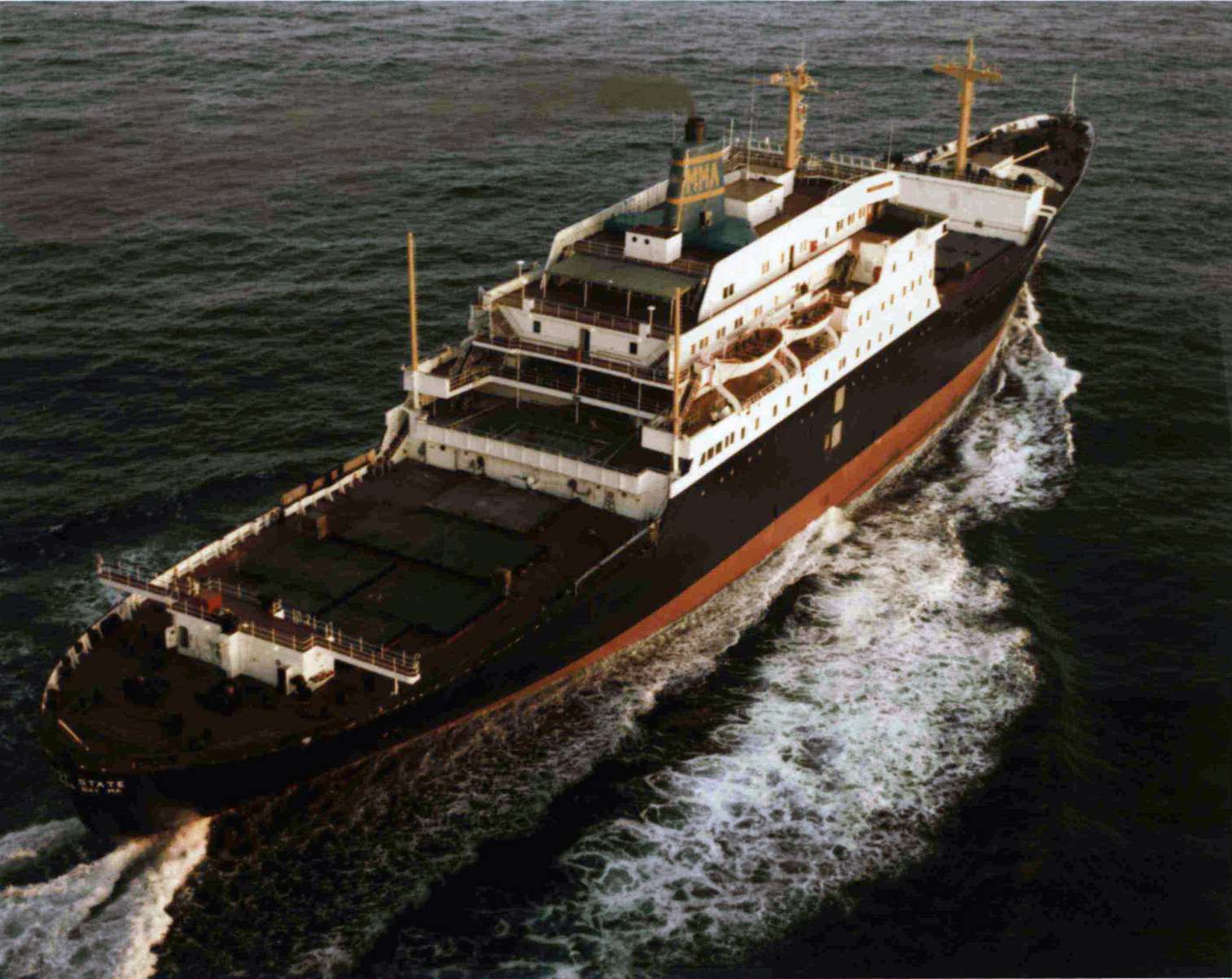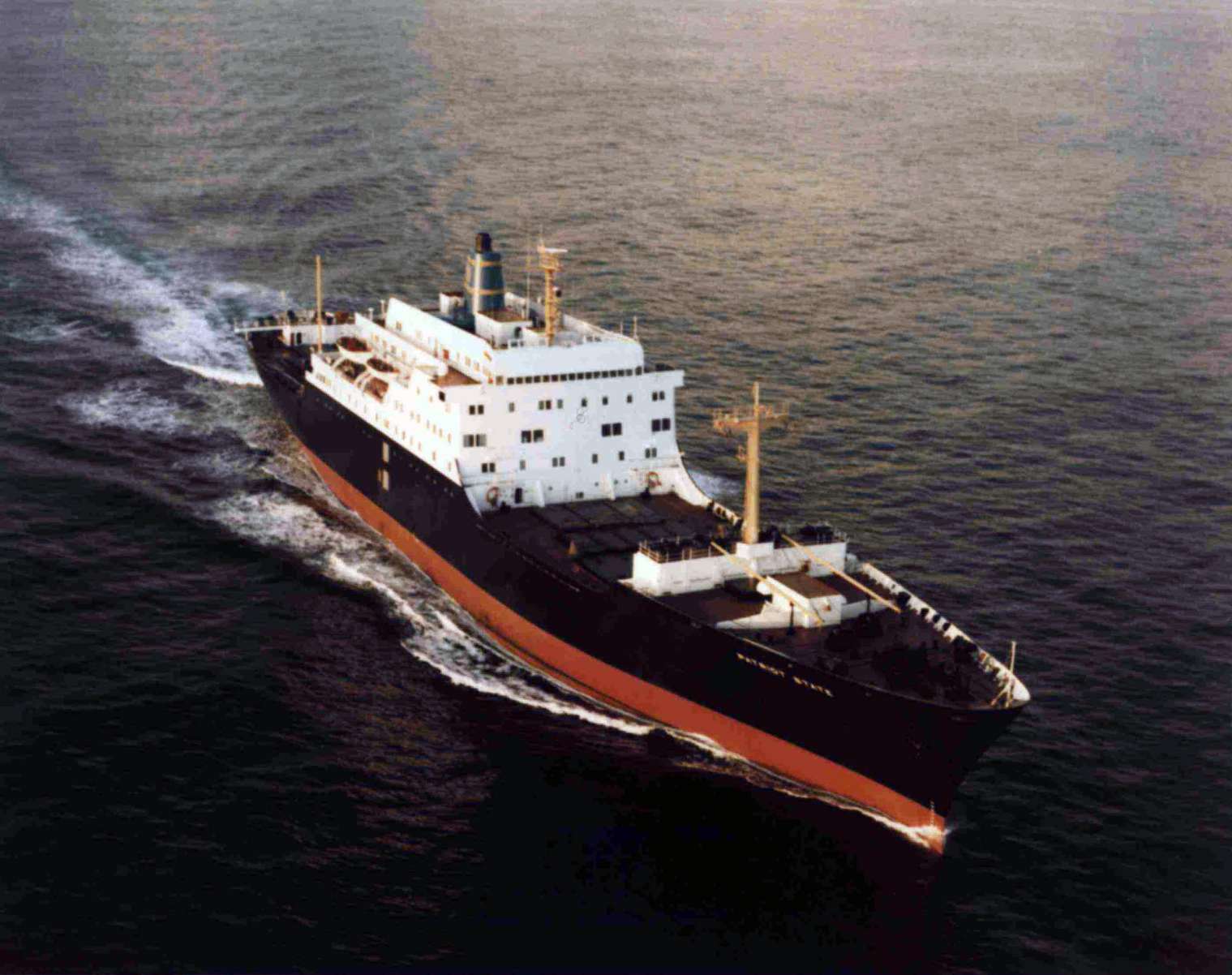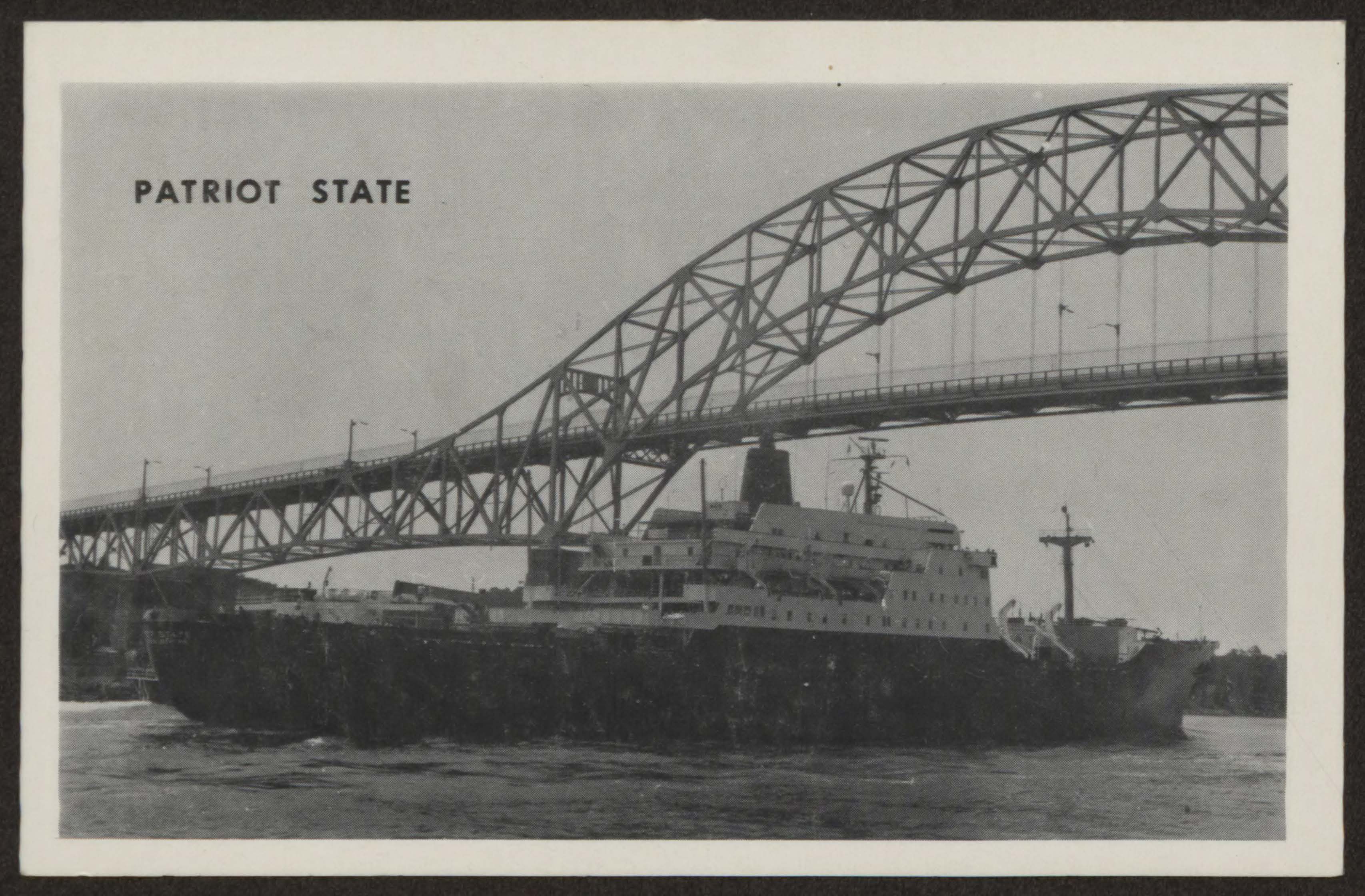 Status Cards
---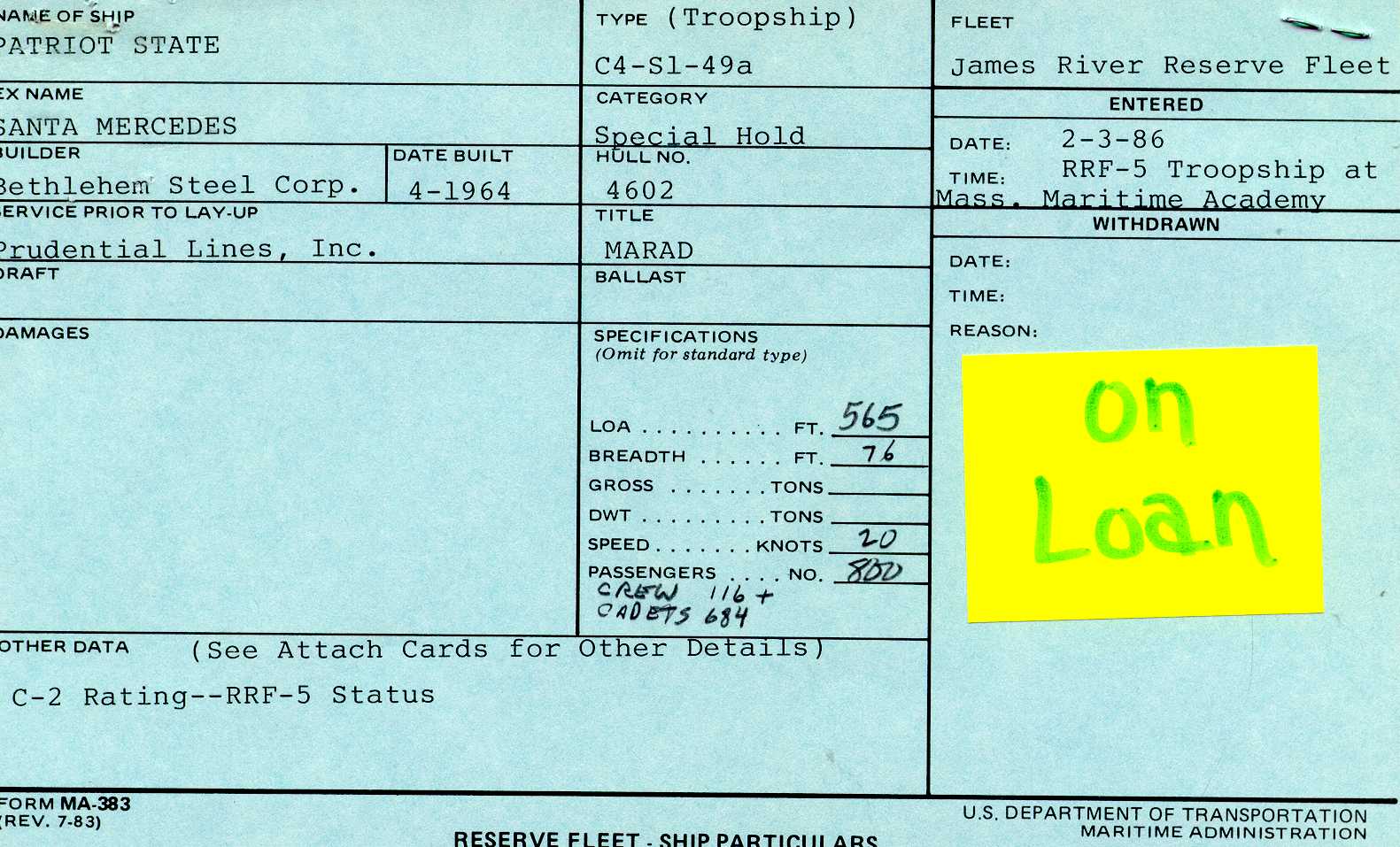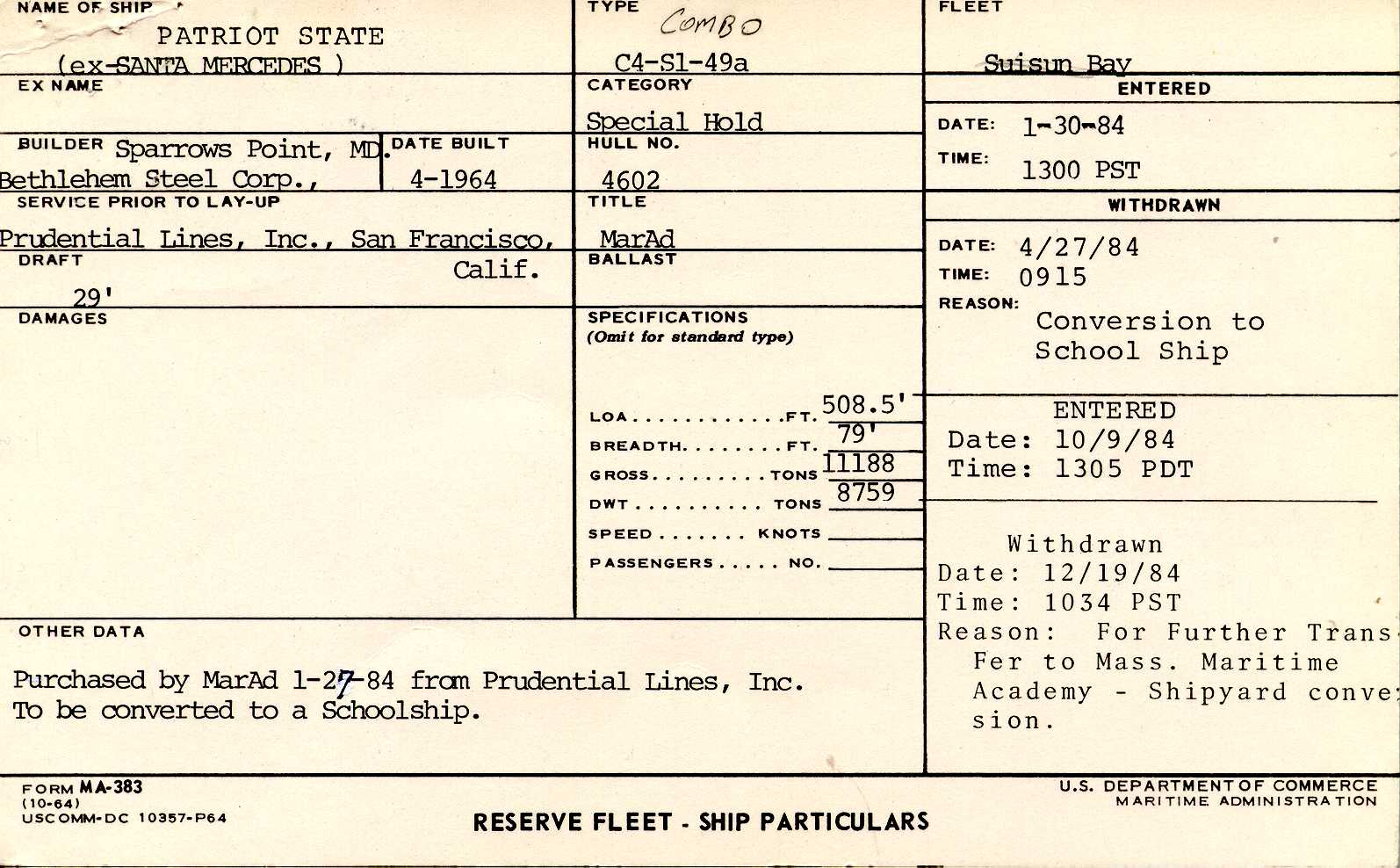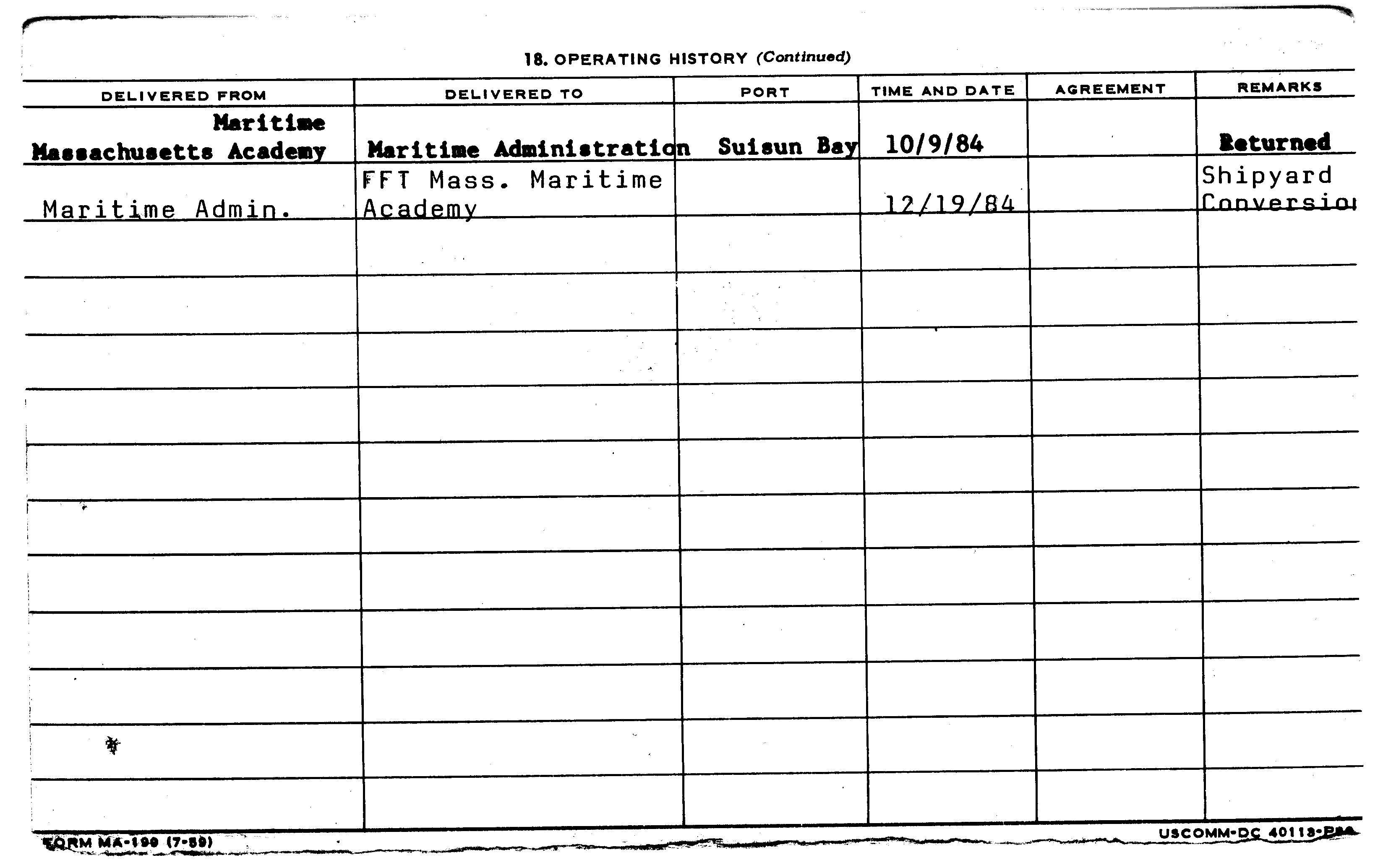 Documents
---
| | Date | Type | Name | Download |
| --- | --- | --- | --- | --- |
| | 7/16/2009 | | Patriot_State_NHPA_History.pdf | |
| | 12/13/2013 | | Patriot_State_HAER_Report.pdf | |
Plans
---
No documents for this vessel
Shipwreck Information
---
No ship wreck information for this vessel