---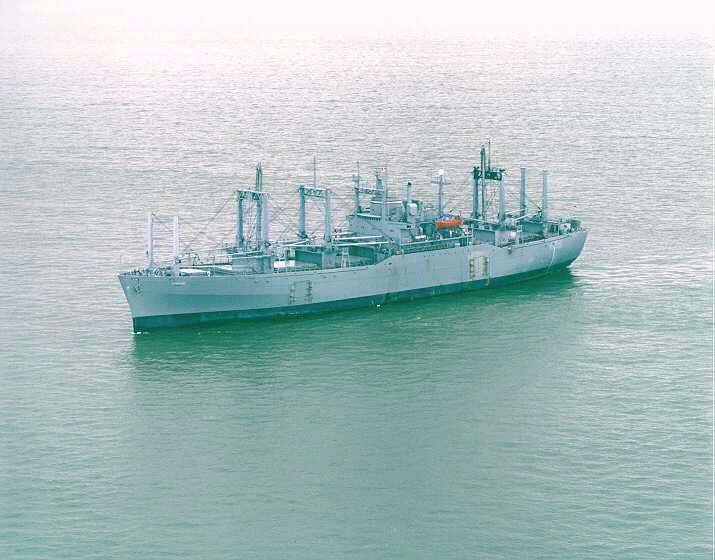 Shipyard
Sun Shipbuilding and Drydock
General Type
Roll On - Roll Off (RO/RO)
Specific Type
Roll On/Roll Off
Displacement, Lightweight
Historical Narrative
---
Affectionately known by the nickname "Mother of All Ro/Ros," (Ro/Ro, or Roll-on-Roll, off describes how cargo is loaded and unloaded) the former USNS Comet is a vehicle landing ship originally built for the U.S.  Navy. The lone ship of its class, it is named for the luminous astronomical body, and was the fourth U.S. naval vessel to bear the name.  Comet was built at Sun Shipbuilding and Dry Dock Company of Chester, Pennsylvania and was delivered in January 1958. The Comet is considered to be the first purpose-built oceangoing "Roll On/Roll Off" vessel. The Comet operated as part of the common user fleet of the Military Sea Transportation Service (MSTS), later Military Sealift Command (MSC). It was a notable participant in the U.S. response to the Lebanon Crisis in 1958.
In October 1961 Defense Secretary Robert McNamara projected that construction of five Comet -class Ro/Ro ships would begin in fiscal year 1963.  Although the full program did not come to pass, Comet's military capabilities eventually came to revolutionize defense sealift, with large squadrons of multi-purpose Ro/Ro vessels dominating the MSC fleet by the latter half of the 1990s. An enlarged sisterly vessel, the Sea Lift (later renamed Meteor) was delivered to MSTS in 1967.
Comet was among a number of MSC cargo vessels assigned to the Ready Reserve Force (RRF) in Fiscal Year 1984, with administrative control transferred to the Maritime Administration.  Full title transfer came in the early 1990s.  Comet was stationed in the San Francisco Bay area and participated in numerous RRF exercises, and in the major deployment for Operations DESERT SHIELD/DESERT STORM.  Comet's last service was for Operation IRAQI FREDOM in 2003. Upon its return from this service, the Comet was placed in a reduced operating status in Alameda, California.  It was downgraded from RRF status in 2006 and laid-up in the Suisun Bay Reserve Fleet. MARAD contracted with All Star Metals, LLC for disposal on May 26, 2016.
Visit the USNS Comet in this 360-degree photographic tour, featuring 43 panoramic images of locations throughout the vessel.
The National Park Service completed a HAER Survey for USNS Comet, which can be viewed in the Documents section.

Vessel Name History
Mission
No Mission for this vessel
Milestones
---
| Event | Date | Content |
| --- | --- | --- |
| Entry | 3/15/1985 | Entered Suisun Bay Reserve Fleet, in Benicia, California. Remained U.S. Navy asset until 6/1/1985. |
| Acquisition | 6/1/1985 | US Navy transferred title to MARAD. |
| Interim Movement | 1/9/1997 | Conducting sea trial |
| Interim Movement | 1/10/1997 | Completed sea trial |
| Interim Movement | 7/14/1997 | ENRTE: New outport at Alameda Point |
| Interim Movement | 7/14/1997 | At new permanent homeport |
| Interim Movement | 2/26/1998 | Conducting sea trial |
| Interim Movement | 2/27/1998 | Completed sea trial |
| Interim Movement | 10/7/1999 | Conducting sea trial |
| Interim Movement | 10/8/1999 | Completed sea trial |
| Interim Movement | 4/25/2000 | ENRTE: SBRF |
| Interim Movement | 4/25/2000 | New homeport is SBRF |
| Interim Movement | 10/4/2000 | ENRTE for dock trial and USCG inspection |
| Interim Movement | 10/4/2000 | At Alameda Point |
| Interim Movement | 11/29/2000 | ENRTE: SBRF |
| Interim Movement | 11/29/2000 | Returned from Alameda |
| Interim Movement | 10/26/2001 | Tow to Alameda CA for RRF maintenance |
| Interim Movement | 10/26/2001 | At Alameda Point |
| Interim Movement | 11/6/2001 | Shift to nesting position along METEOR |
| Interim Movement | 11/6/2001 | Completed shift in nesting position |
| Interim Movement | 1/30/2002 | Shifting to Pier 1 from Pier 3 |
| Interim Movement | 1/30/2002 | Completed shift to Pier 1 |
| Interim Movement | 2/25/2002 | Shifting to Pier 2 followig C BOVER move |
| Interim Movement | 2/25/2002 | Completed shift from Pier 1 to Pier 2 |
| Interim Movement | 8/7/2002 | ENRTE: San Fransciso CA for drydocking |
| Interim Movement | 8/7/2002 | At San Francisco Drydock for repairs |
| Interim Movement | 9/8/2002 | Conducting maintenance sea trial |
| Interim Movement | 9/10/2002 | Completed maintenance sea trial |
| Interim Movement | 9/15/2002 | Conducting sea trial |
| Interim Movement | 9/15/2002 | Completed sea trial |
| Interim Movement | 10/31/2002 | Shifting outboard CAPE GIBSON to inboard |
| Interim Movement | 10/31/2002 | Completed outboard to inboard shift |
| Interim Movement | 1/7/2003 | Under tow to SBRF |
| Interim Movement | 1/7/2003 | Returned from repairs at Alameda |
| Interim Movement | 2/13/2003 | ENRTE: San Francisco Pier 50 |
| Interim Movement | 2/13/2003 | |
| Interim Movement | 2/23/2003 | Conducting sea trial |
| Interim Movement | 2/24/2003 | Completed sea trial | MSC OPCON 02/24/03 |
| Interim Movement | 2/27/2003 | OP ENDURING FREEDOM |
| Interim Movement | 5/27/2003 | Return f/ OP IRAQI FREEDOM|New Homeport |
| Interim Movement | 6/11/2003 | Shifting to take fuel from CAPE BOVER |
| Interim Movement | 6/11/2003 | Completed shift |
| Interim Movement | 6/19/2003 | Shifting outboard of the METEOR |
| Interim Movement | 6/19/2003 | Shift & fuel intake of CP BOVER complete |
| Interim Movement | 12/10/2004 | Turbo Activation 05-01 sea trial |
| Interim Movement | 12/12/2004 | Completed Turbo Activation 05-01 sea trial |
| Interim Movement | 7/26/2006 | Downgraded from the RRF to NDRF Retention in the Fleet |
| Interim Movement | 7/26/2006 | Downgraded from the RRF to NDRF Retention in the Fleet |
| Disposal | 9/30/2014 | Vessel cleared historic review. |
| Disposal | 5/26/2016 | Vessel fully dismantled for disposal. |
Ship Imagery
---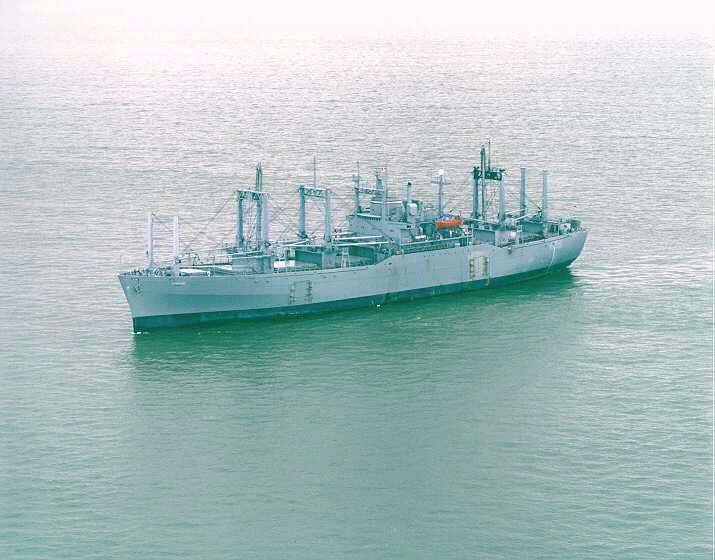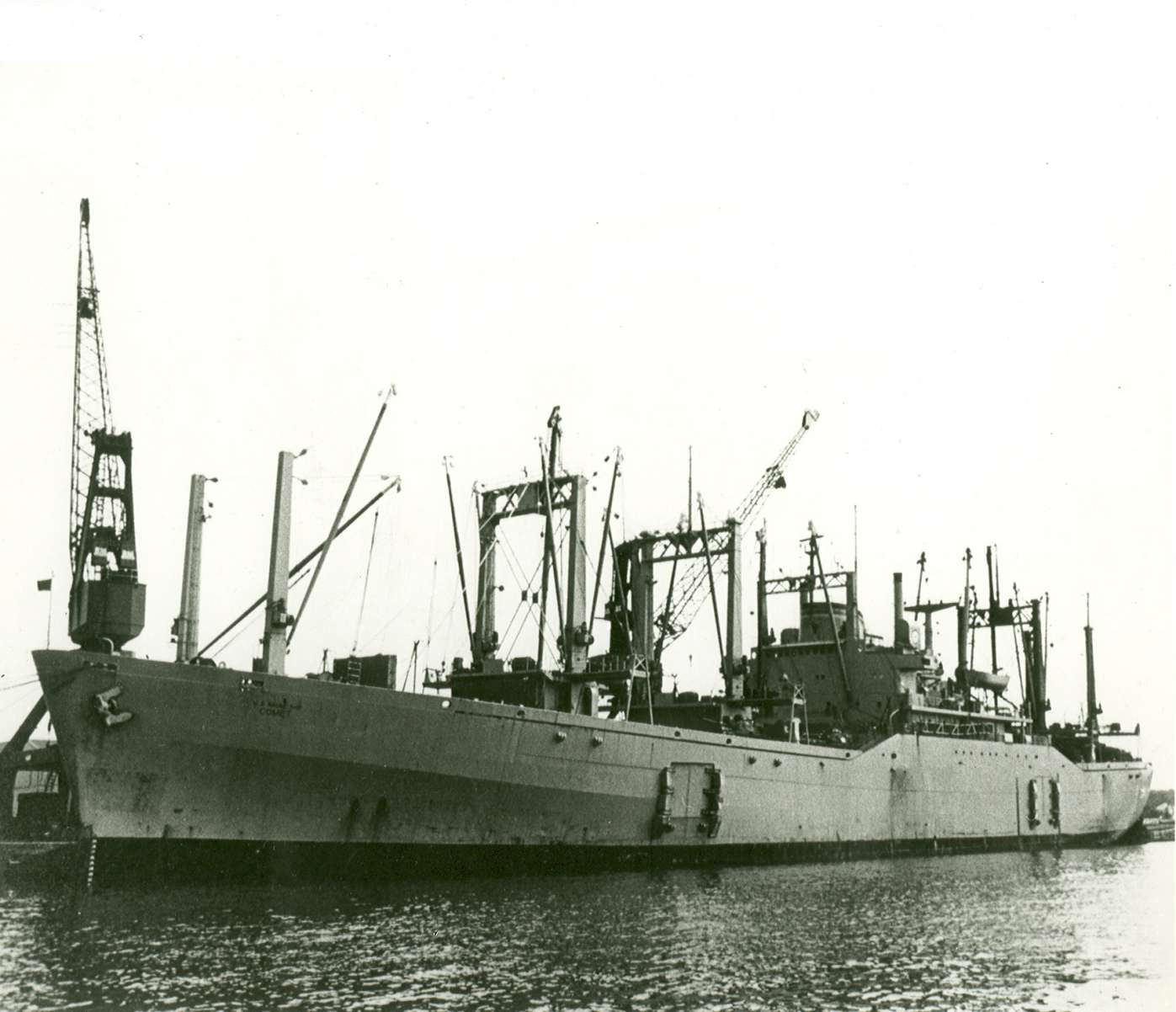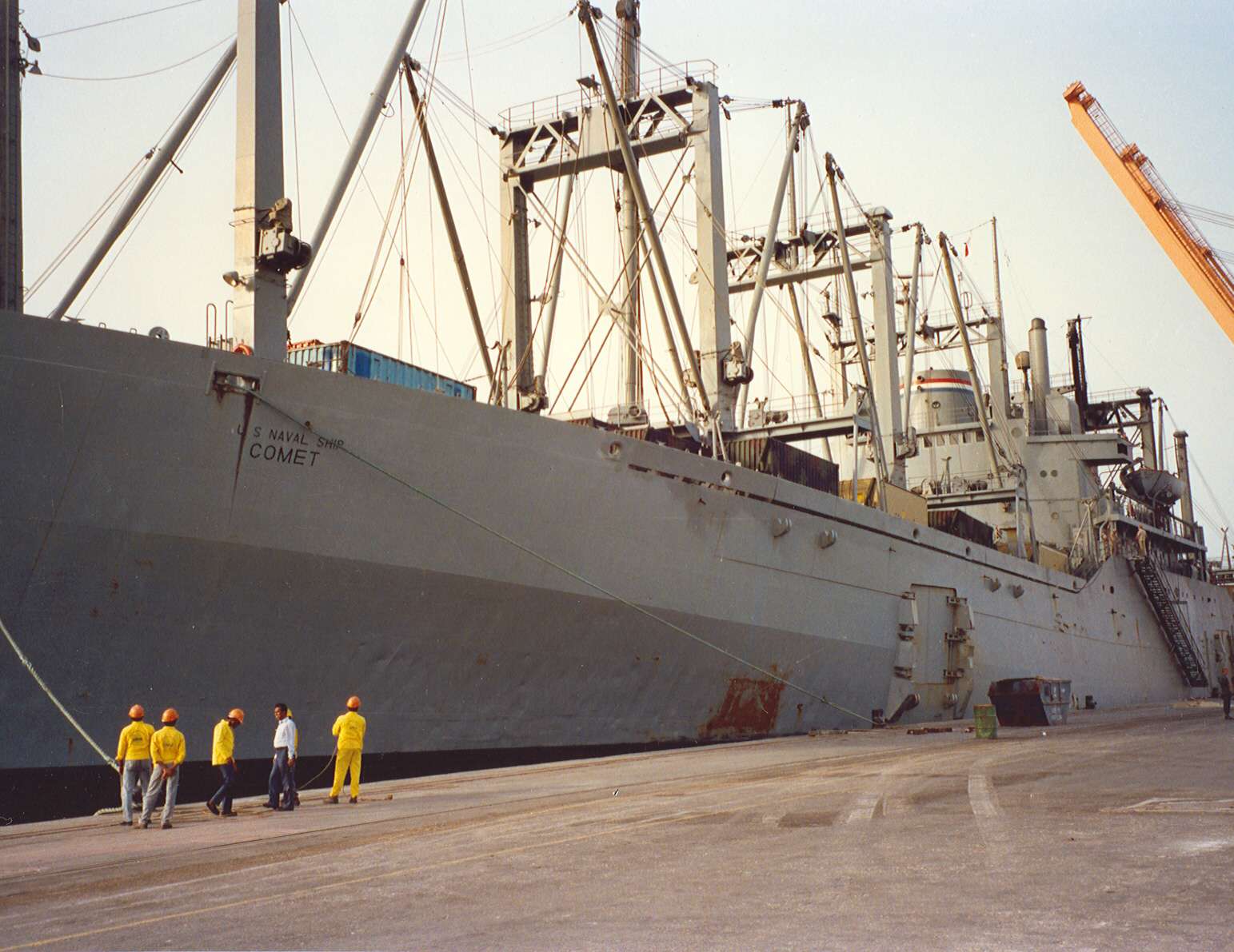 Status Cards
---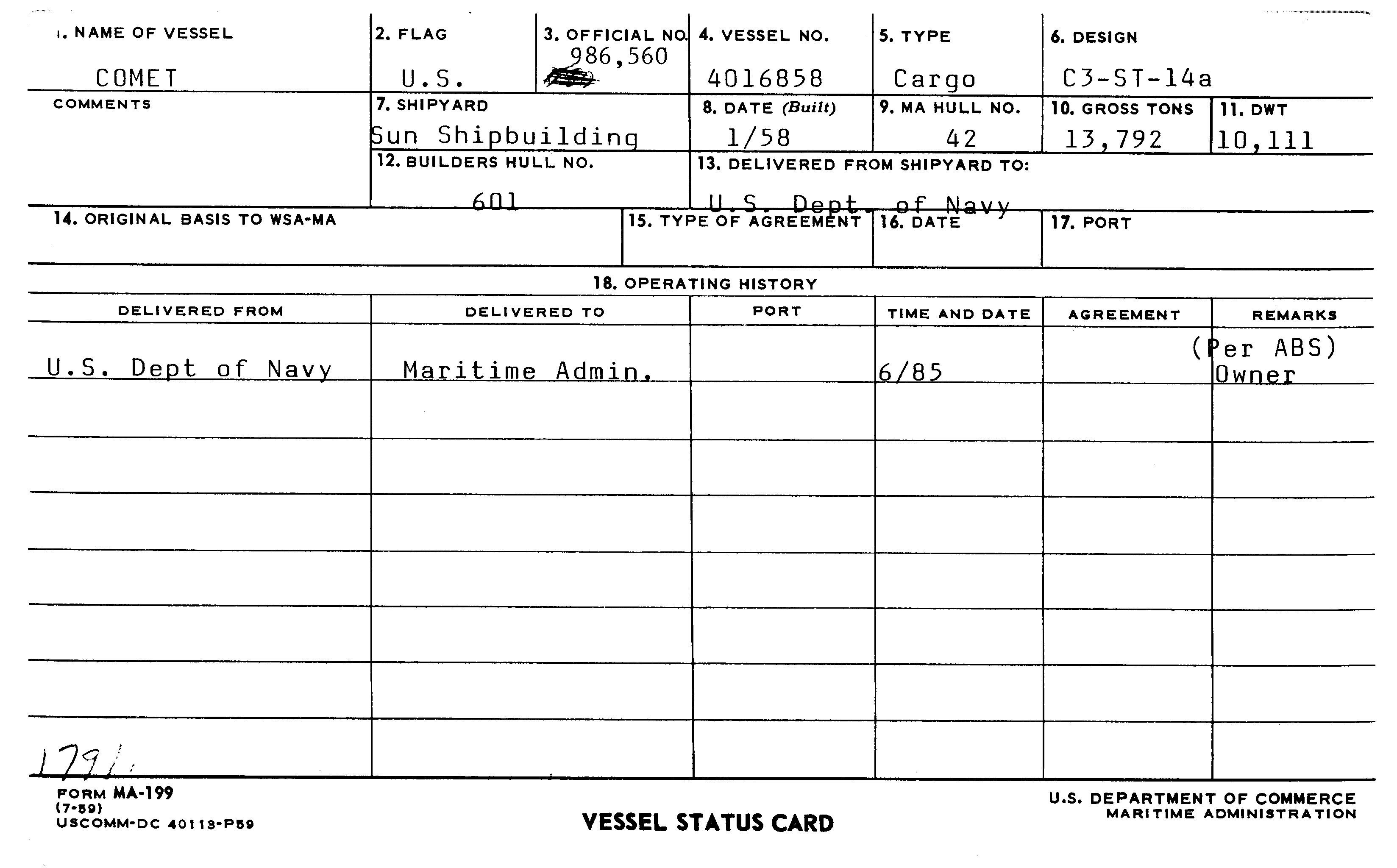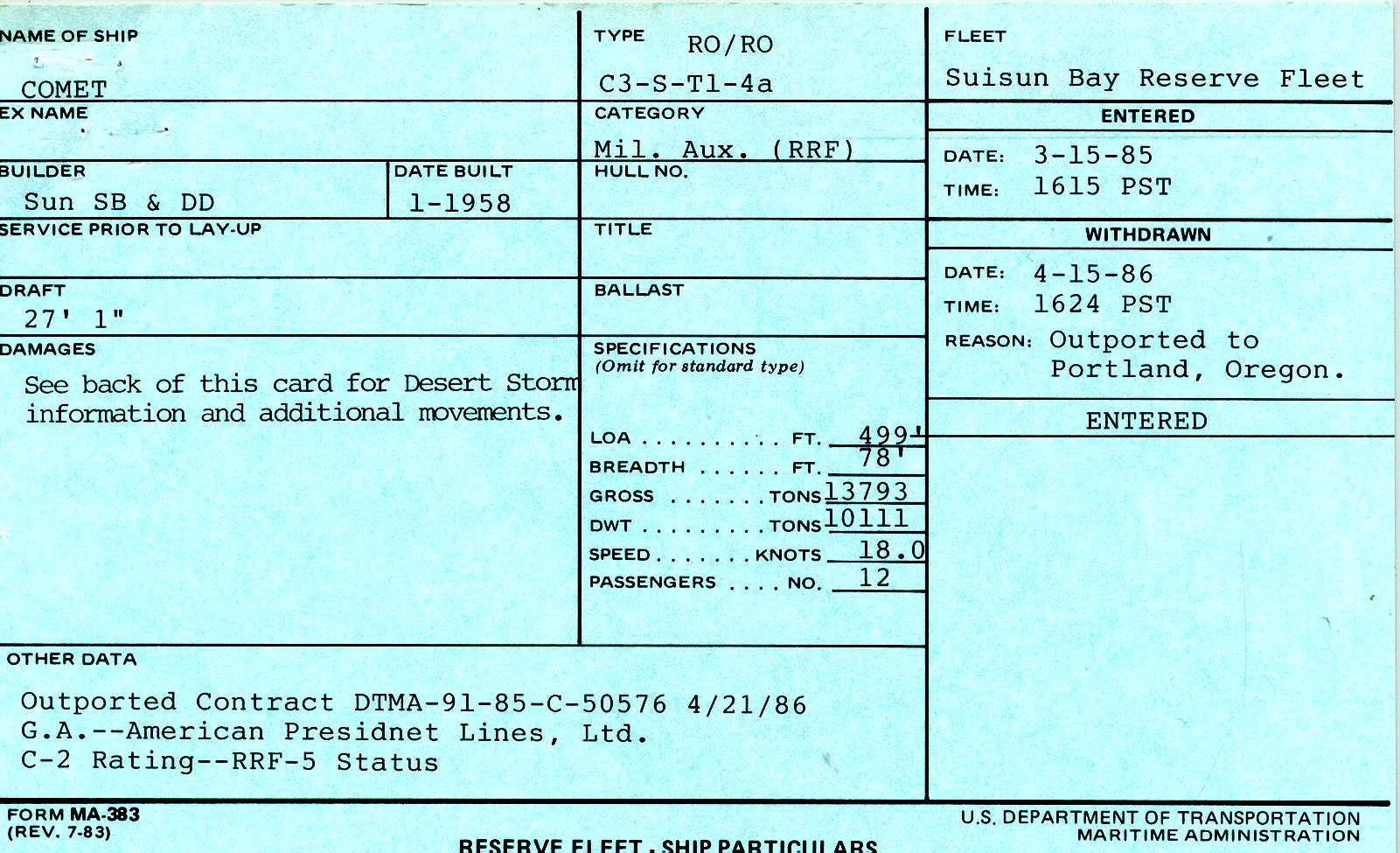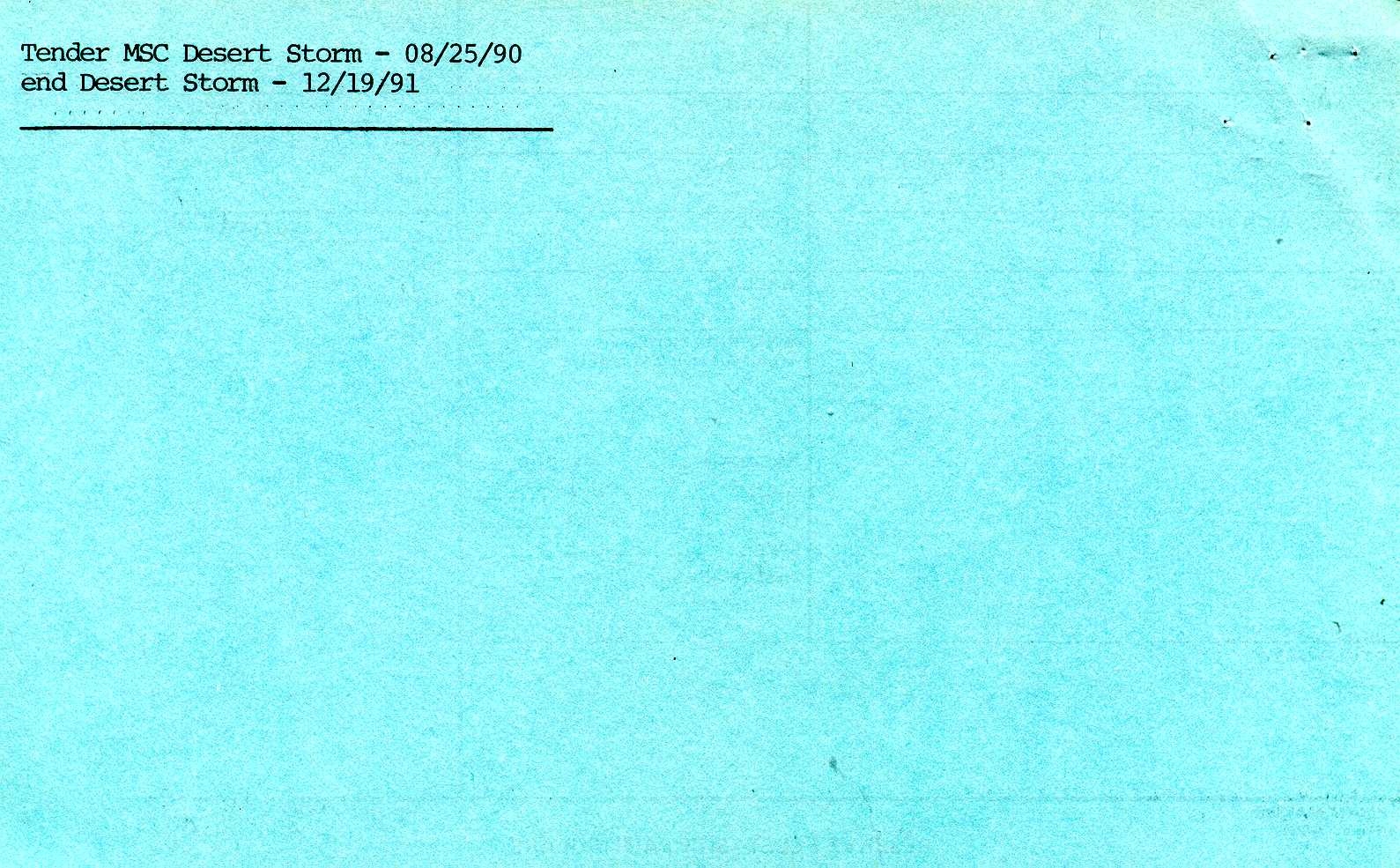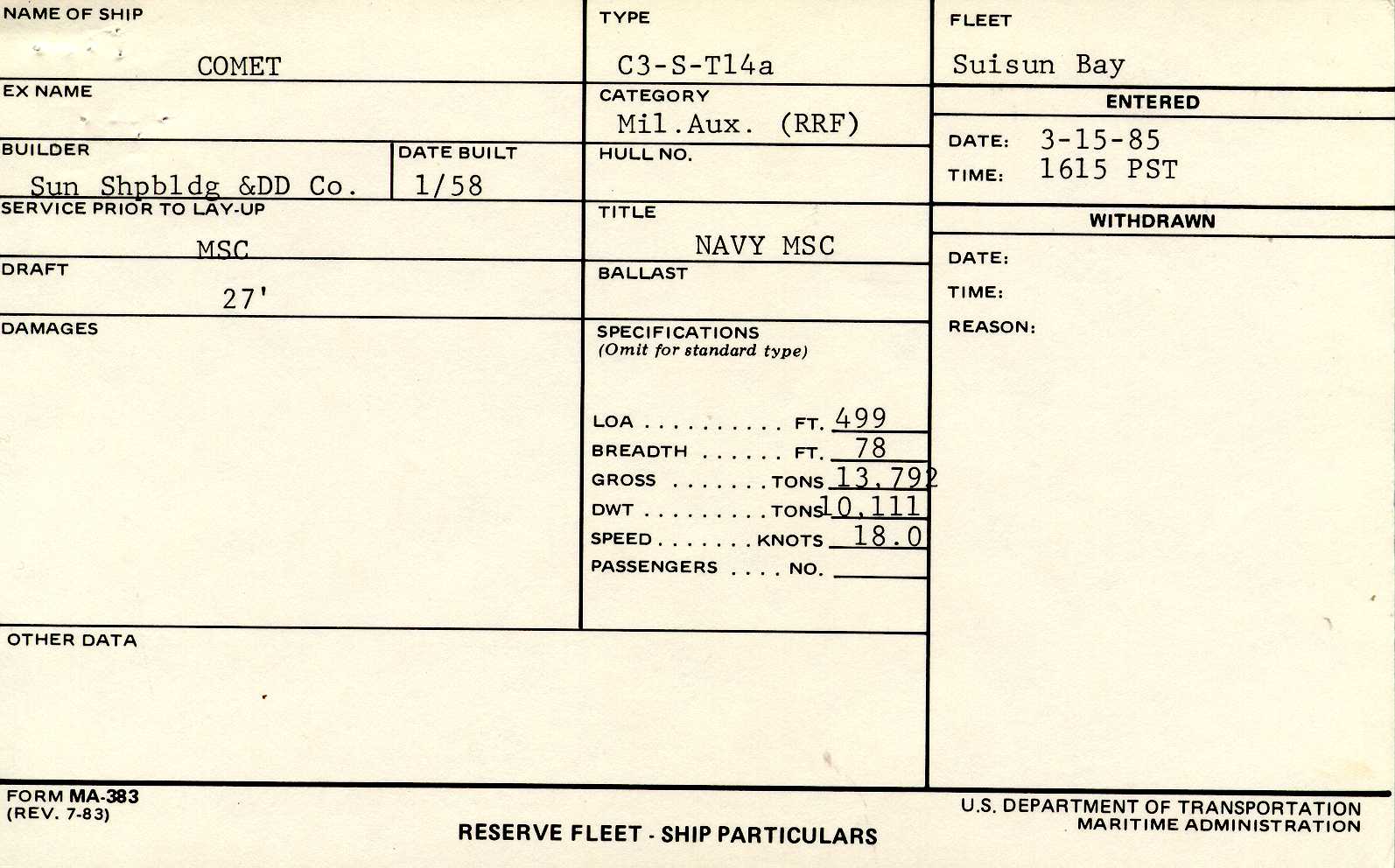 Documents
---
| | Date | Type | Name | Download |
| --- | --- | --- | --- | --- |
| | 10/2/2013 | | Comet MOA with California State History Preservation Officer.pdf | |
| | 6/14/2012 | | Comet_HAER_Report.pdf | |
Plans
---
| | Date | Type | Name | Download |
| --- | --- | --- | --- | --- |
| | (No Date) | | COMET Profile.pdf | |
| | (No Date) | | COMET Trim and Stability Book.pdf | |
| | (No Date) | | COMET Capacity Plan.pdf | |
| | (No Date) | | COMET Decks.pdf | |
Shipwreck Information
---
No ship wreck information for this vessel