---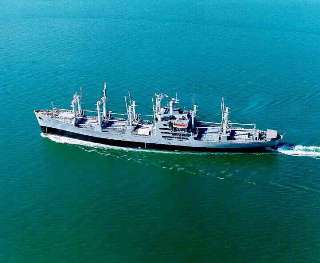 Shipyard
Avondale Marine Ways
General Type
General Cargo
Displacement, Lightweight
Historical Narrative
---
The break-bulk cargo ship
Cape Breton
was originally built as the SS
Dolly Turman
at the Avondale Shipyards in Avondale, Louisiana in 1966.  The ship was delivered to its owner, Lykes Brothers Steamship Company later that year.  The
Dolly Turman
was a traditional break-bulk cargo vessel that transported cotton and other palletized and bulk cargoes from the Gulf of Mexico to the West Indies, Great Britain, and from the northern border of Portugal to the southern border of Denmark. 
Dolly Turman
was one of a number of ships acquired by the Maritime Administration in 1985 and assigned to its Ready Reserve Force. 
Dolly Turman
was renamed
Cape Breton
, placed on a five-day activation status, and homeported in Alameda, California. 
Five years later,
Cape Breton
was among the 78 Ready Reserve Force ships activated to support Operations DESERT SHIELD/DESERT STORM.  The vessel was ordered to activate on August 24, 1990, and placed under the operational control of the Navy's Military Sealift Command.  It continued in service until September 1991. 


Cape Breton
was maintained in a reduced operating status (partially crewed) in Alameda, California, after which it was laid-up in the Suisun Bay Reserve Fleet.
The MARAD's National Register Eligibility Assessment for
Cape Breton
, available in the Documents section, contains a detailed history of the vessel.
Vessel Name History
1967 - 1985:
Dolly Turman
1985 - present:
Cape Breton
Vessel Name History
Mission
No Mission for this vessel
Milestones
---
| Event | Date | Content |
| --- | --- | --- |
| Ship Name Change | 1/11/1985 | Ship DOLLY TURMAN changes name to CAPE BRETON |
| Entry | 1/11/1985 | |
| Acquisition | 1/11/1985 | |
| Interim Movement | 8/15/1997 | ENRTE: San Francisco Drydock |
| Interim Movement | 8/15/1997 | At San Francisco Drydock |
| Interim Movement | 8/29/1997 | ENRTE: Alameda Point |
| Interim Movement | 8/29/1997 | At Alameda Point |
| Interim Movement | 9/25/1997 | Conducting maintenance activation |
| Interim Movement | 9/26/1997 | Complete maintenance activation |
| Interim Movement | 9/20/1998 | No-Notice Turbo Activation 98-5 |
| Interim Movement | 9/21/1998 | Completed Turbo Activation |
| Interim Movement | 3/7/1999 | No-Notice Turbo Activation 99-2 |
| Interim Movement | 3/8/1999 | Completed Turbo Activation 99-2 |
| Interim Movement | 11/18/1999 | ENRTE: SBRF |
| Interim Movement | 11/18/1999 | New homeport at SBRF |
| Interim Movement | 10/17/2000 | ENRTE: Alameda for RRF Maintenance |
| Interim Movement | 10/17/2000 | At Alameda Point Pier 3 Berth 15 |
| Interim Movement | 4/5/2001 | ENRTE: Cascade General S/Y Portland OR |
| Interim Movement | 4/7/2001 | In for drydocking at Cascade General S/Y |
| Interim Movement | 5/3/2001 | Conducting maintenance sea trial |
| Interim Movement | 5/5/2001 | Completed drydocking and sea trial |
| Interim Movement | 10/2/2001 | ENRTE: SBRF |
| Interim Movement | 10/2/2001 | Returned from drydocking |
| Interim Movement | 9/14/2002 | Under tow to Alameda CA for TA02-03 |
| Interim Movement | 9/14/2002 | At Alameda for no-notice activation |
| Interim Movement | 9/21/2002 | Turbo Activation 02-03 sea trial |
| Interim Movement | 9/24/2002 | Completed Turbo Activation 02-03 S/T |
| Interim Movement | 1/8/2003 | Moving alongside the CAPE GIRARDEAU |
| Interim Movement | 1/8/2003 | Completed shift for downgrade to NDRF |
| Interim Movement | 3/25/2003 | ENRTE: SBRF |
| Interim Movement | 3/25/2003 | Returned from repairs and downgrade |
| Stripping Action | 6/7/2005 | "SSTG parts removed 6/7/2005, transferred to TS ENTERPRISE to support upgrade. Boxes EM-97, 98, 102 transferred." |
| Disposal | 9/27/2012 | Vessel cleared historic review. |
Ship Imagery
---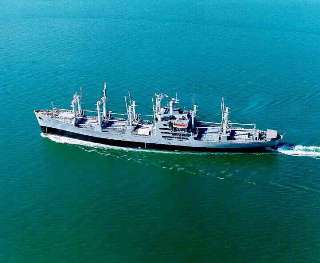 Status Cards
---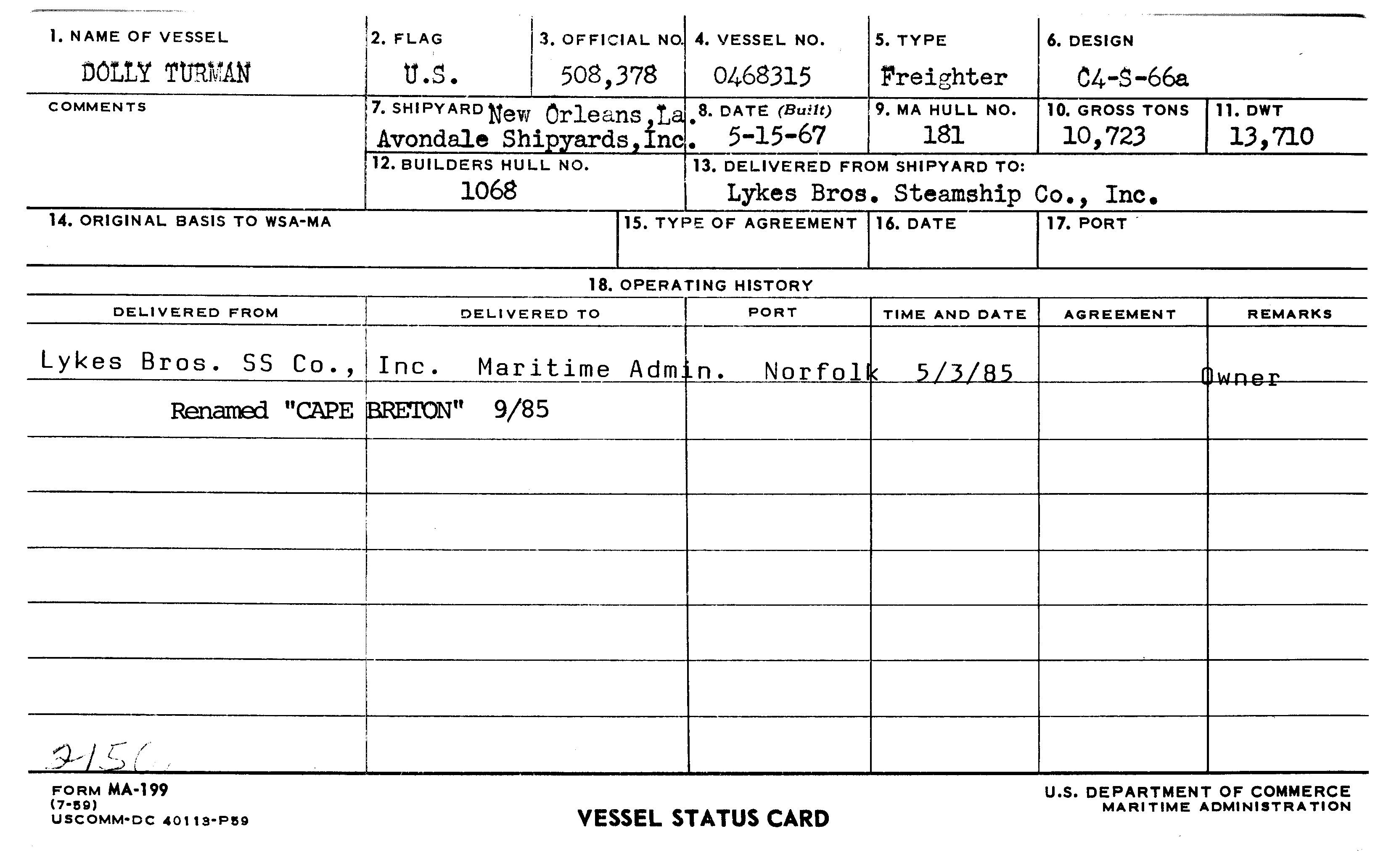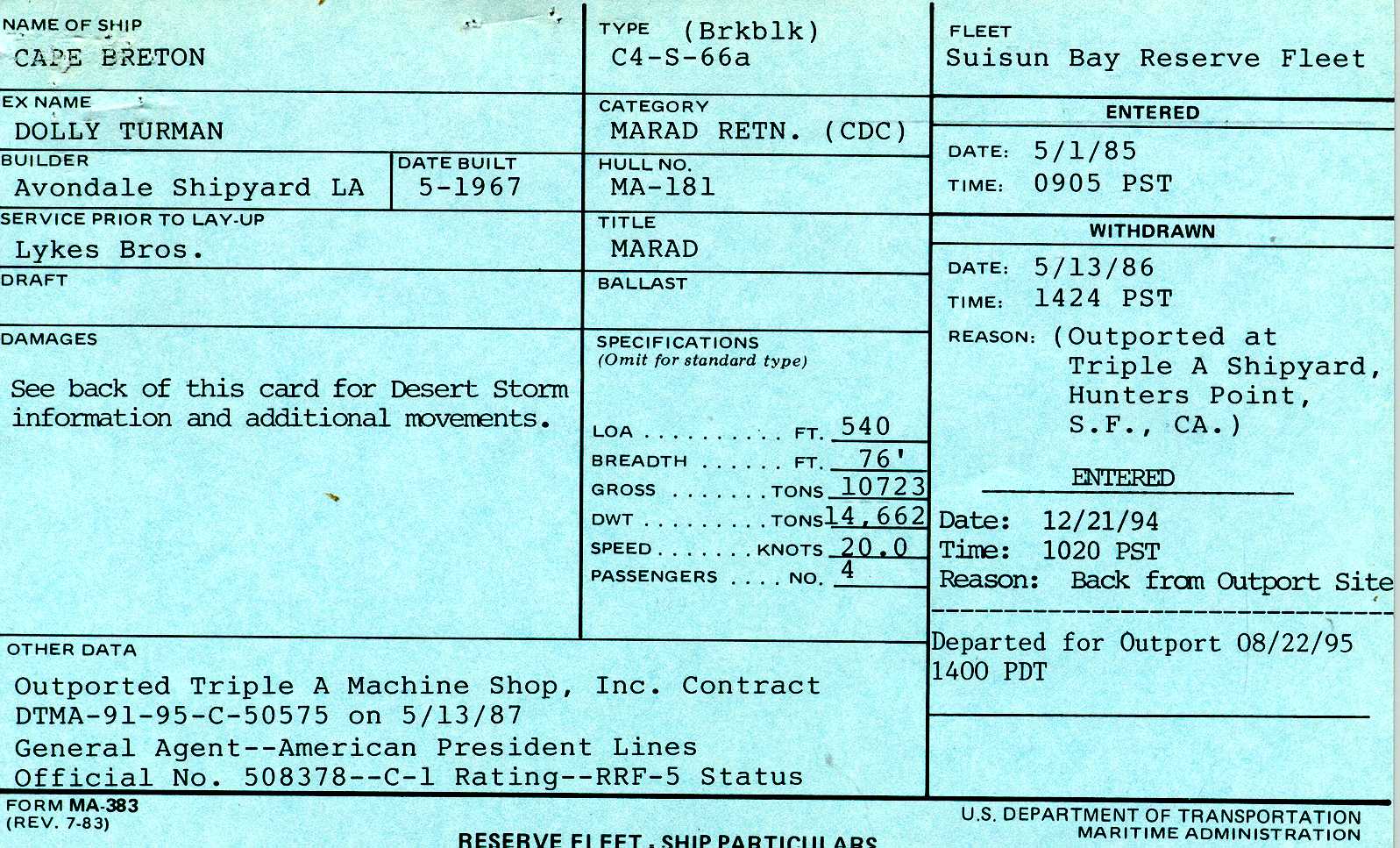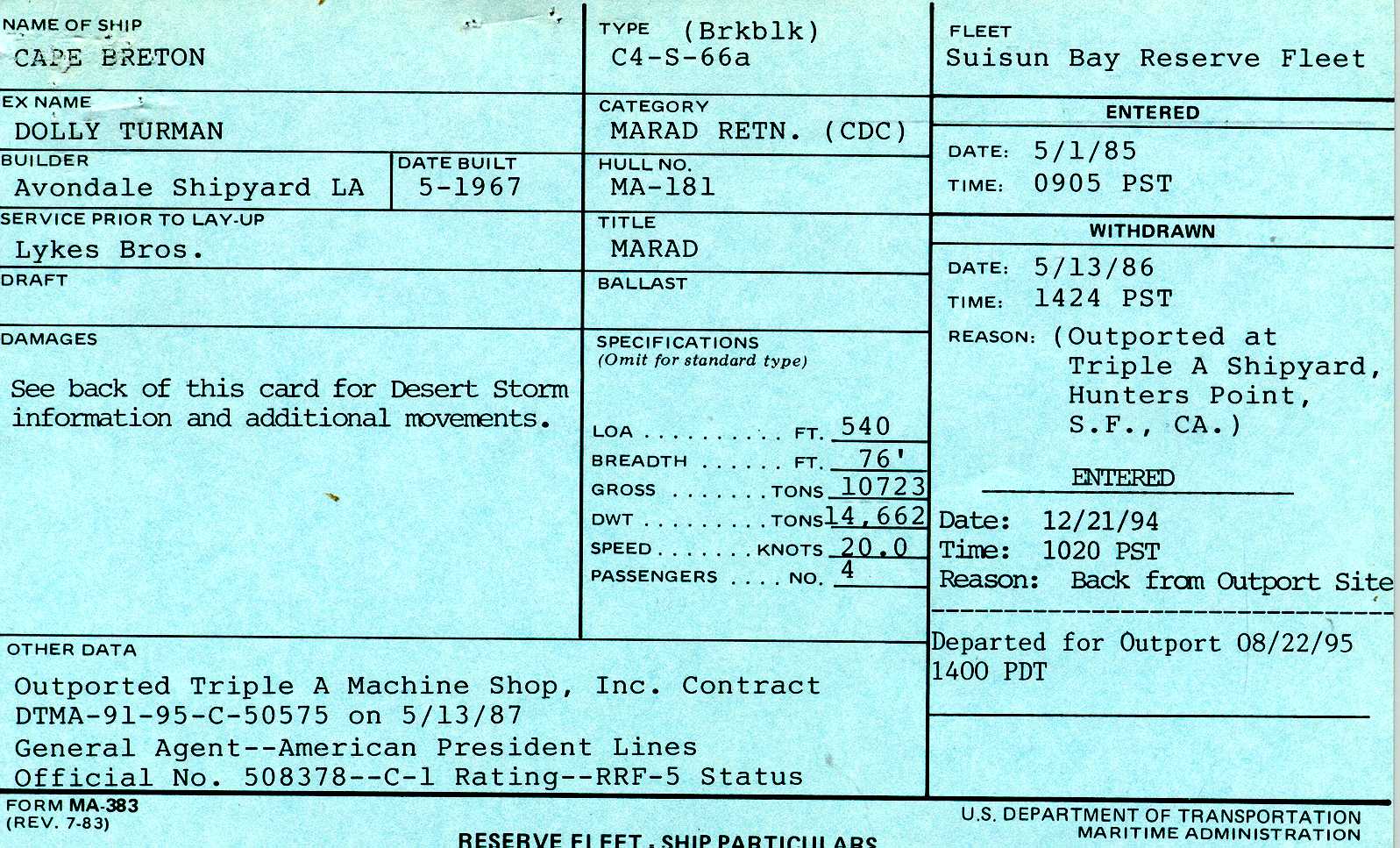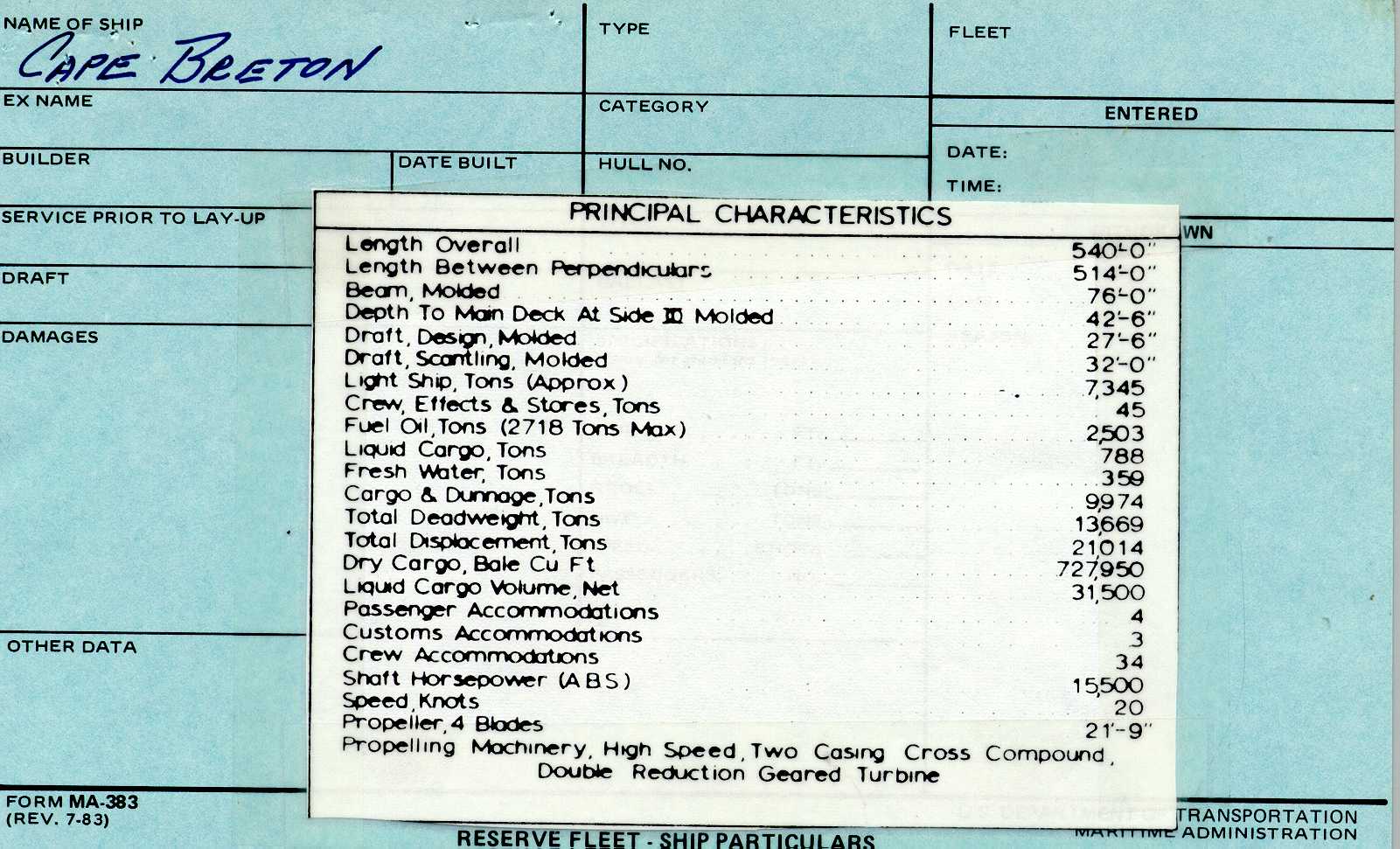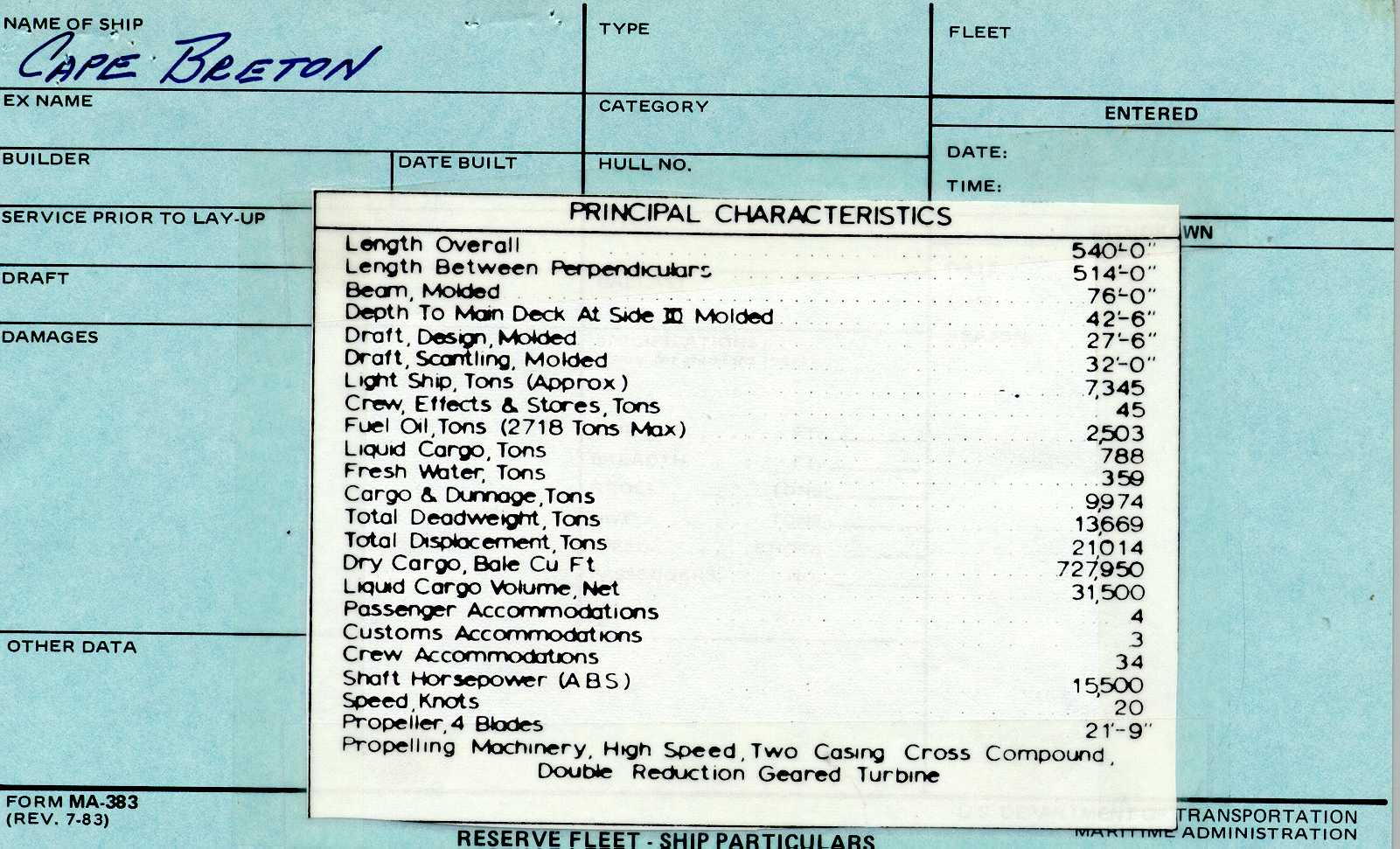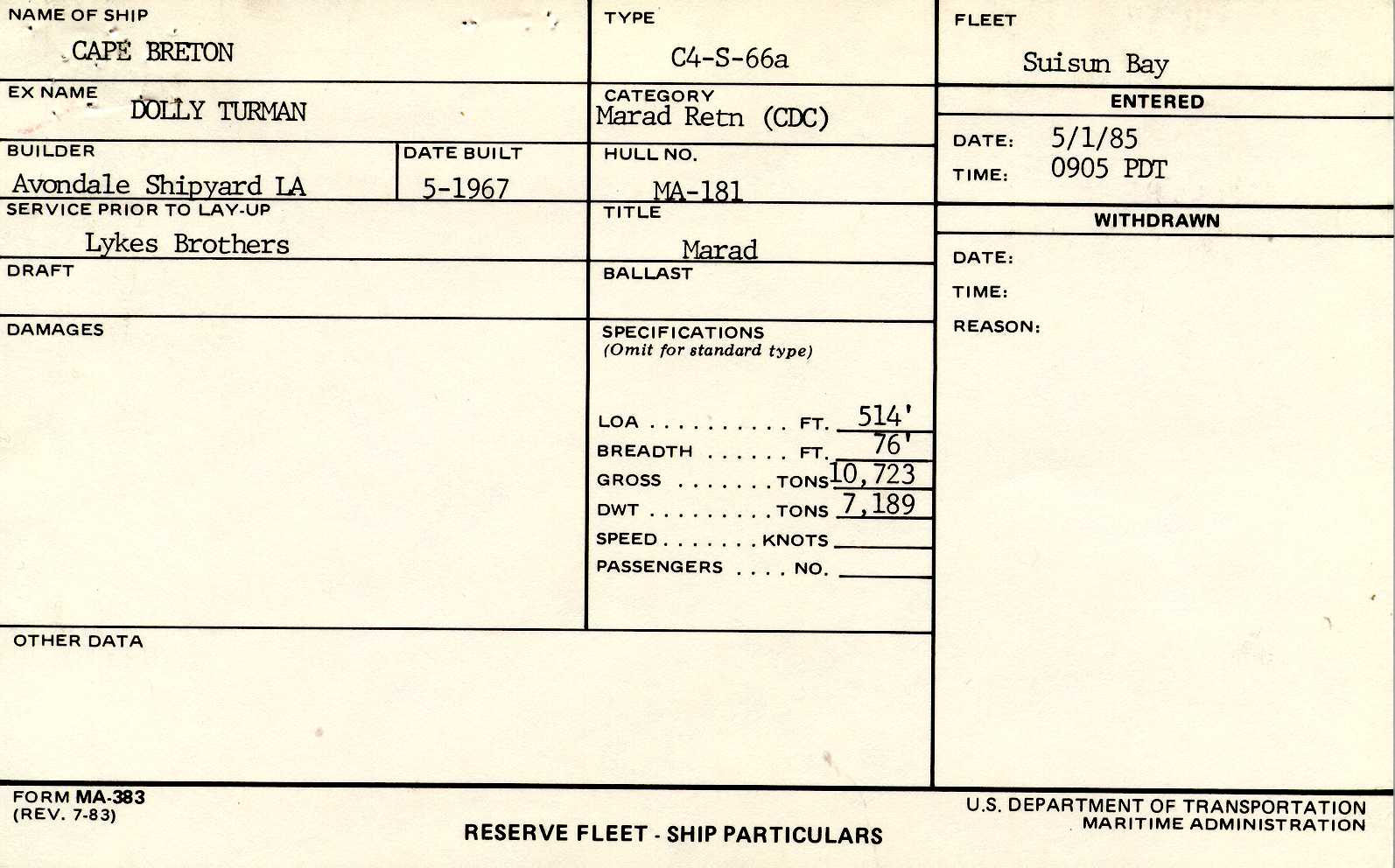 Documents
---
| | Date | Type | Name | Download |
| --- | --- | --- | --- | --- |
| | 9/14/2012 | | National Register Eligibility Assessment Cape Breton.pdf | |
Plans
---
No documents for this vessel
Shipwreck Information
---
No ship wreck information for this vessel